iZotope, Inc., the experts in intelligent audio technology, has released Neutron 4, the latest update to its suite of intelligent audio production plug-ins.
Designed to make crafting a professional mix easier and faster than ever before, Neutron 4 allows users to sculpt sounds seamlessly while staying in their creative flow. Eight powerful plug-ins combine forces through AI-powered assistive audio technology to create the most modern and intelligent mixing experience yet.
Neutron's Mix Assistant is now modernized into the new Assistant View. Powered by machine learning, the new version listens as soon as you play audio, producing a reference starting point and taking you to an intelligent control center where you can perfect your sound. The new Unmask Module discovers and fixes masking issues for you by making space between two competing tracks, balancing bass and kick, or allowing vocals to shine over your mix. With the new Target Library, dynamically match the tone of your track to a sample or stem with assistive tone-matching technology. Neutron 4 also brings back a slice of the fan-favorite iZotope plug-in, Trash, allowing users to distort and destroy audio and discover new extremes.
Also included are utility plug-ins Visual Mixer and Relay to help plug-ins talk to each other, plus Tonal Balance Control 2 to view your levels as you mix. All plug-ins included with Neutron 4 feature Apple M1 native silicon compatibility.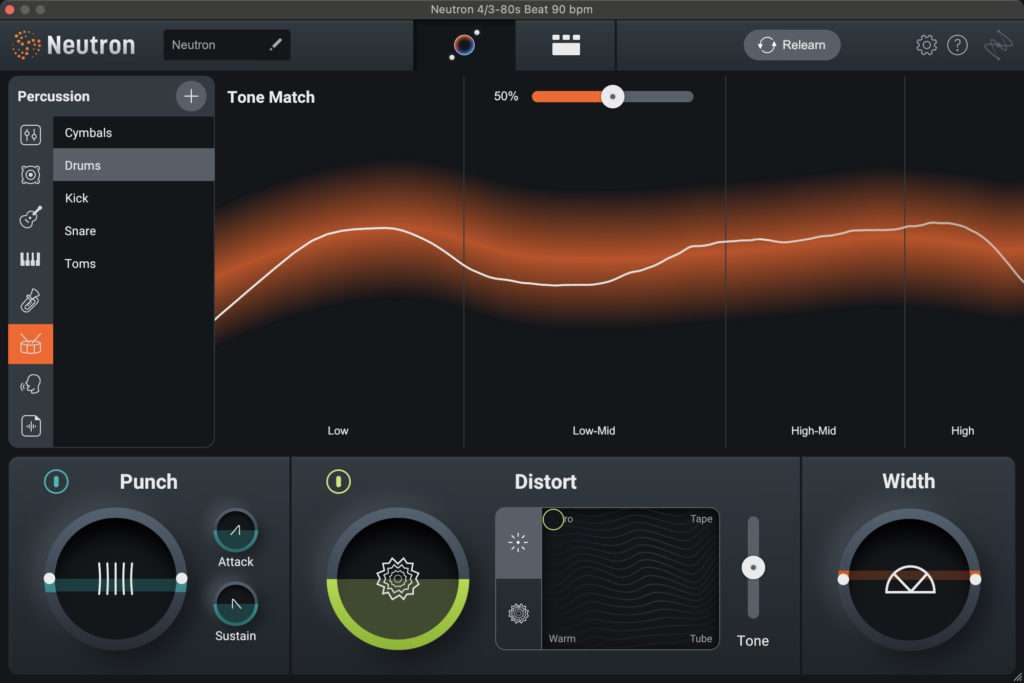 What's New in Neutron 4:
Mix in the moment: New powerful Assistant View, evolved from Neutron's original Track Assistant.
Match references in real-time: New Target Library to dynamically match a track's tone to a sample or stem.
Make space: The new Unmask Module in Neutron 4 discovers and fixes masking issues for you, enabling you to reach new levels of clarity.
Distort responsibly. Or not: With a slice of Trash now in Neutron 4, distort and destroy sound with Trash Mode in the Exciter Module allowing you to discover new extremes.
Punch it up: Make an impact using the new Punch Mode in the Compressor to control and visualize how hard your sounds hit.
Tone and tame character changes in Neutron's Exciter with the new Tone Slider, adjusting the emphasis to low or high-frequency content. Use the new Tame button to preserve dynamic expression as you destroy with distortion or dial up effects.
Sidechain metering in the Compressor Module: See your sound, scope your sidechain. Visualize your dynamics with the new Oscilloscope View in Neutron's Compressor.
Also released today, Music Production Suite 5 Universal Edition welcomes the new Neutron 4 mixing suite, plus immersive reverbs Stratus 3D and Symphony 3D by Exponential Audio and six new effects plug-ins from iZotope's partner, Brainworx, to the latest generation of the bundle. Best of all, those who buy or upgrade to the Universal Edition will also receive two major flagship product updates in September at no additional cost.
With 52 plug-ins included at launch, Music Production Suite 5 Universal Edition includes all of the tools you need from creative effects and sonic shaping, to assistive mixing, vocal production, intelligent mastering, repair, and balancing. AI-powered audio assistants fuel every stage of the workflow with personalized starting points so users can skip the setup and stay in their creative flow.
What's new in Music Production Suite Universal Edition:
Neutron 4 for intelligent, modern mixing
M1 Apple silicon native support for all iZotope products in the bundle, including Ozone 9 Advanced, RX 9 Standard, Nectar 3 Plus, Neoverb, VocalSynth 2 and more.
Symphony 3D (M1 native coming Fall 2022) for lush immersive reverb
Stratus 3D (M1 native coming Fall 2022) for creating immersive surround environments
Brainworx bx_delay 2500 for innovative delay
Brainworx bx_boom! to make kick drums big
Brainworx bx_saturator V2 to add multiband saturation
Brainworx bx_subsynth for holy grail bass fanatics
Brainworx bx_cleansweep Pro to clean up sounds
Brainworx bx_refinement to tame harshness
Plus: Two additional flagship iZotope product updates as soon as they are released (coming Fall 2022)
Pricing and Availability
Neutron 4 and Music Production Suite 5 Universal Edition are available on www.iZotope.com and from select retailers as of June 2, 2022.
Neutron 4: $299 introductory ($399 regular)
Music Production Suite 5 Universal Edition: $599 introductory ($999 regular)
Existing iZotope customers may be eligible for additional loyalty discounts on Neutron 4 and Music Production Suite 5 Universal Edition. Details can be found in the user's account section on iZotope.com.