Focusrite, the legendary British manufacturer of audio interfaces and other products for recording musicians, producers, and professional audio facilities, introduces Vocaster – a brand new range of audio tools designed for the rapidly growing market of podcasters and other content creators.
The Ultimate Podcasting Kit
With Vocaster, podcasters and other content creators have everything they need to start recording studio-quality sound in seconds. The range features two standalone interfaces, Vocaster One and Vocaster Two; and two studio packs, Vocaster One Studio and Vocaster Two Studio, that include everything needed to record high-quality podcasts in one box. Just plug in your new interface, follow the "Easy Start" onboarding process, and away you go.
No matter where you are in your creative journey, whether just starting out and building a home podcasting studio from scratch or looking to take your existing setup to the next level, Vocaster has a solution for every creator.
The Interfaces: Vocaster One & Vocaster Two
Vocaster One is a no-fuss interface, ideal for the solo podcaster, that gives you high-quality sound with confidence & ease. Set levels, enhance your sound with one click, and access award-winning support to get you recording straight away.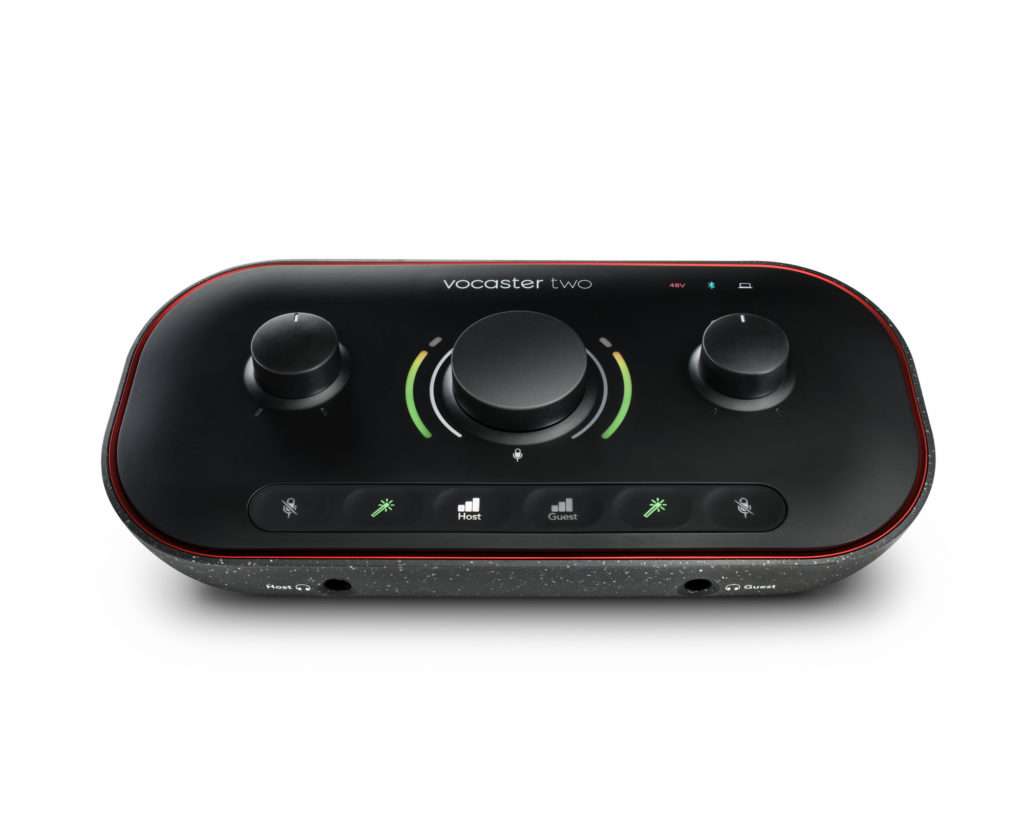 Vocaster Two is ideal for more dynamic shows that feature two hosts, guests, and/or audio segments. This interface features two mic inputs and two headphones outputs for recording and listening back. You can also bring in guests over the phone with the convenience of Bluetooth or a single cable (TRRS to TRRS cable not included).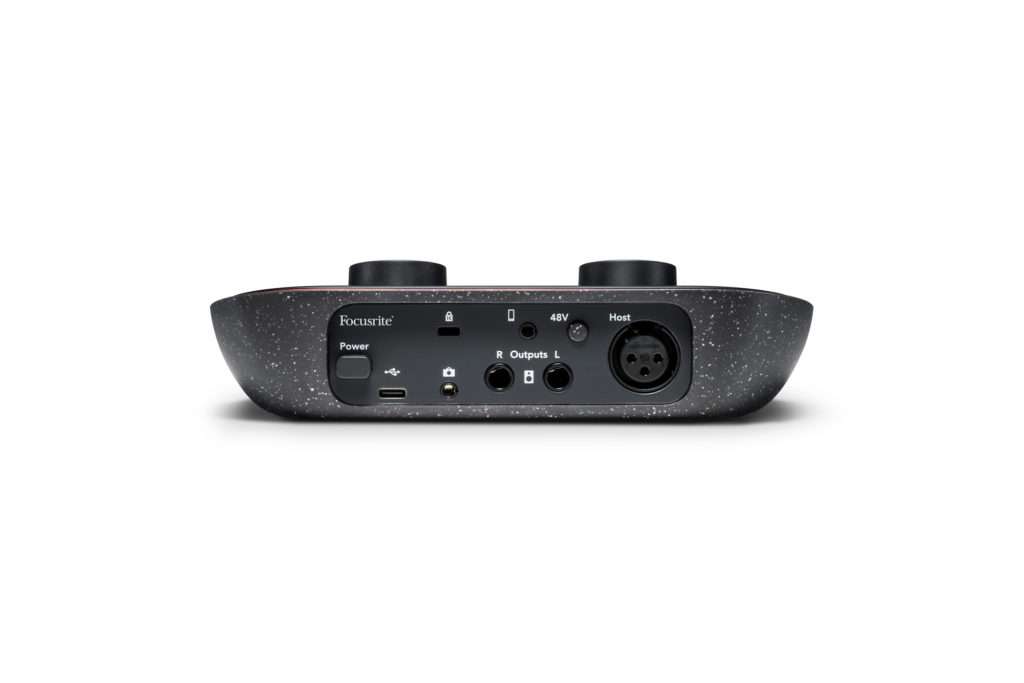 For Vloggers, you're just one cable away from adding Vocaster's studio sound to your vlog. Both Vocaster interfaces feature a camera output, allowing you to record high quality audio directly to your camera, removing the need to sync audio and video up later.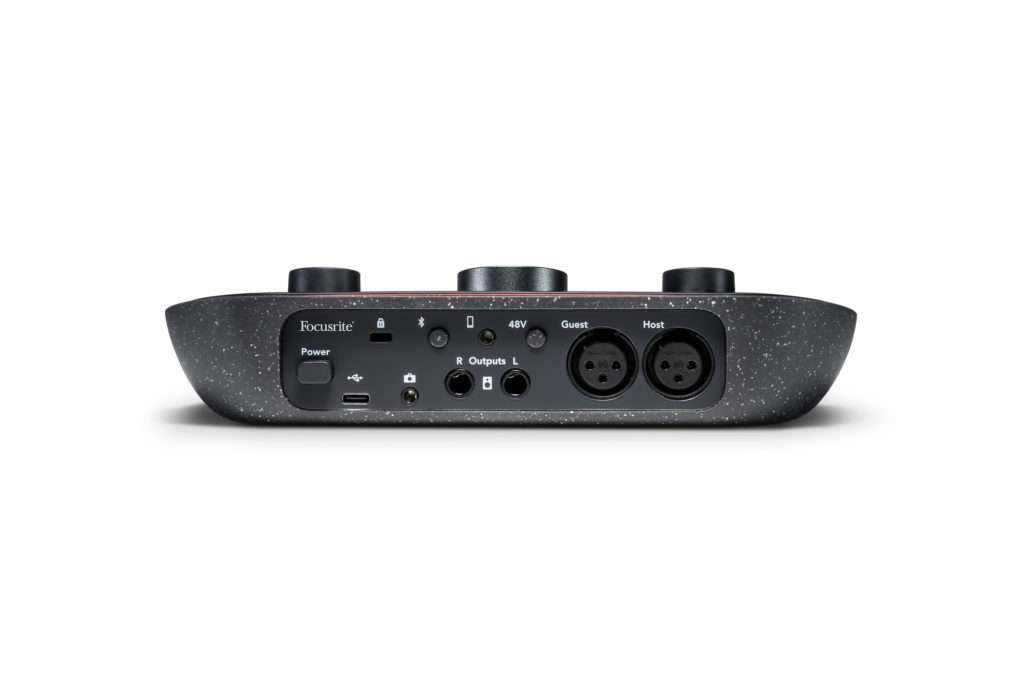 Your Very Own Control Room
Vocaster Hub, the companion app for the Vocaster interface, is like opening the door to your very own broadcast studio. It is the central hub for setting up, recording, and mixing your show. Control your interface settings, set your levels, enhance your sound, route audio from your phone and computer, and more.
Key features include:
• Auto Gain – set your levels quickly and easily with more than enough gain on tap for the most popular broadcast mics – no booster needed.
• Enhance – with the click of a button, Enhance reveals the true quality of your voice with absolute clarity on the first take. Three podcaster-approved voice presets bring out the best in any vocal recording.
• Mute – don't let coughs and sneezes – or any other unexpected interruptions – interfere with your podcast. Just hit the mute button and silence the mic until you're ready to go again.
• Loopback – easily stream pre-recorded segments such as intros, outros, interviews, jingles, background music, and more during your show – all directly from your computer.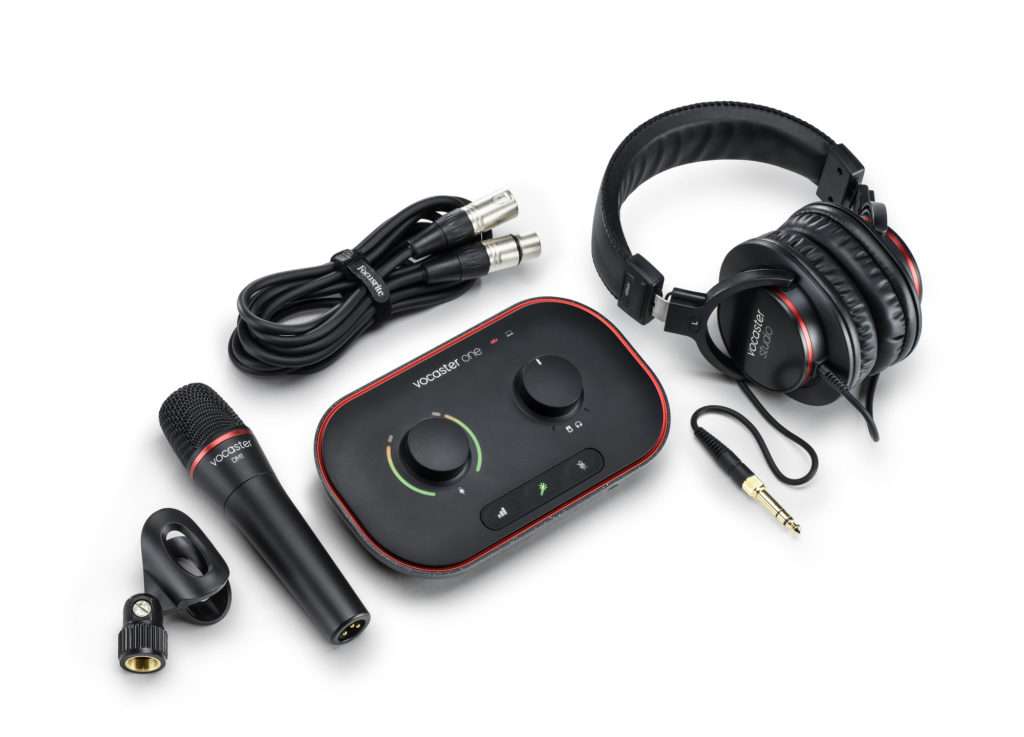 Studio Packs: Everything You Need In One Box
Piecing together a recording kit can be an arduous process, especially for those embarking on the podcasting journey for the first time. Sifting through specs and reviews and wondering if your chosen mic and headphones are appropriately matched with your interface. Vocaster Studio Packs take the guess work out and provide everything you need to start recording high quality podcasts quickly and easily.
Vocaster One Studio Pack includes the Vocaster One interface; Focusrite's Vocaster DM1 dynamic mic with built-in grille and pop filter that make you sound like you're in the studio; HP60v closed-back studio headphones that let you hear your show as the world will, in perfect detail, and stops the mic from picking up your show mix.
Vocaster Two Studio Bundle includes the Vocaster Two interface; Focusrite's premium Vocaster DM14v dynamic mic that captures your true voice in perfect clarity, with built in windshield and shock mount to keep the noise down and the energy up; and the HP60v closedback studio headphones.
Free Software Bundle: The World's Best Podcasting Tools At Your Fingertips
Included with each purchase is the Vocaster software bundle, a full suite worth over $600. It is the first fully featured software bundle for Podcasters available with an audio interface. Partnering with Acast, Hindenburg, and Squadcast, Vocaster users can get recording, editing, and sharing their show right away.
Warranty & Environmental Impact
Three Year Warranty: All Focusrite products are built to the highest standards and are designed to provide many years of reliable performance. In the rare event of a manufacturing defect becoming evident during the warranty period, Focusrite will ensure that the product is repaired or replaced free of charge.
Recycled Material: With Vocaster, Focusrite has taken big steps forward in reducing the impact their interfaces have on the planet. With carefully chosen components, biodegradable and recyclable packaging, and more than half the plastics from recycled sources, Vocaster is better for everyone.
Pricing & Availability
Vocaster One: £189.99 / $199.99 Vocaster One Studio: £289.99 / $299.99 Vocaster Two: £289.99 / $299.99 Vocaster Two Studio: £469.99 / $499.99
Vocaster will be available to order from June 1st, 2022 at Focusrite.com, Amazon, and all good musical equipment retailers.