Brainworx present the native plugin version of AMPEG's seminal V–4B 100W All-Tube Bass Amp. The plugin is available for Download & Try Now. It will be Available for Sale July 15
All Tube Power Unleashed
The original amp came on the market back in 1971 and featured the same preamp as the Ampeg SVT, but introduced a 100 watt power amp, all tube construction and matching 1×12, 2×12, and 8×10 cabinets. To put it simply, the V–4B is an amazing reissue of the well-known 1971 original and delivers a thick tube tone with an uncompromising low end that has made its way into countless bass rigs over the years. It can be heard on countless hits!
With the V–4B it's easy to plug in and quickly get a huge round tone that has made AMPEG the go-to standard for bass players the world over. The controls on the V–4B are simple and to the point, featuring a 3 band EQ with switchable mids and ultra low and high switches for defining power and note definition. This remarkable simplicity allows you to quickly dial in a vast range of tones, everything from boomy and beefy down to something more honky and gritty.
With the AMPEG V-4B plugin you get an exacting emulation of the original hardware amp. In the digital version of the amp you also get access to 65 Recording Chains that feature well engineered combinations of classic microphones and a ton of boutique outboard gear all running through a Neve VXS72 console. Brainworx's FX Rack also offers onboard effects such as a noise gate, filter control and a horn on/off function for the cabinets.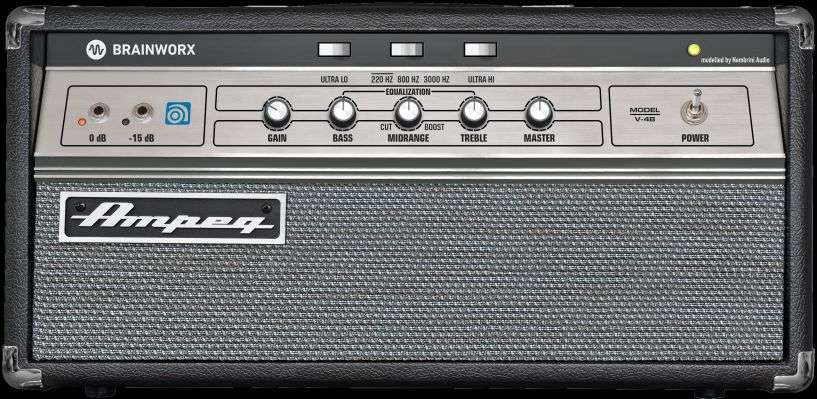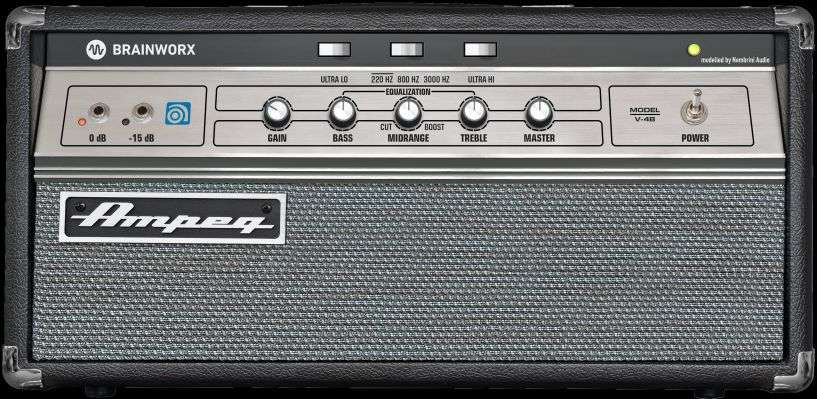 FEATURES
Exacting emulation of the original Ampeg V-4B All Tube Bass Amp, endorsed by Ampeg
Pure AMPEG tube tone
65 Brainworx-made Recording Chains
FX Rack include noise gate, tight and smooth filters, Power Soak and a horn On/Off function for the cabinets
3-Band EQ with switchable mid frequency for powerful tone shaping
Ultra-Low and Ultra-High controls