Brainworx have announced the bx_console Focusrite SC plugin. Developed by Brainworx in close collaboration with Focusrite. Featuring 72 channels including patent-pending Tolerance Modeling Technology (TMT). The plugin is available for Download & Try Now. It will be Available for Sale July 15
Some History – 9 Studio Consoles Only in Existence!
We're proud to welcome Focusrite's famous and ultra-rare console to our platform.10 were only ever made, 9 are still alive today.
The birth of Focusrite began in 1985 when Sir George Martin, otherwise known as the fifth Beatle, approached Rupert Neve to inquire about custom modules for AIR Montserrat. His studio regularly saw everyone from Paul McCartney, Elton John, Michael Jackson, Stevie Wonder, Eric Clapton and countless others. George discussed with Rupert a design for a top of the line microphone preamp and an EQ with low noise and an extra wide bandwidth with the main goal of it being as musical as possible. What came out of this vision was the ISA-110, featuring a transformer-coupled mic preamp with a four band EQ and highpass and lowpass filters. Word travelled fast and these standalone units could soon be found in studios across the planet. With the massive success achieved by the ISA-110 and the companion ISA-130 compressor/limiter/de-esser module, a ton of orders quickly emerged.
In the late 80's Focusrite spared no expense when working on their ambitious studio desk, but as costs rapidly reached astronomical levels, the rights to the console were acquired by Phil Dudderidge of Soundcraft Electronics. The Focusrite Studio Console was finally completed by his team. From the work on ISA-110 and ISA-130, Phil's engineers crafted equally successful designs, the ISA-215, 220 and 430. Since then, the Focusrite Studio Console has gained an enviable reputation for dynamic punch and clinical equalisation and firmly established itself as the recording and mixing desk of choice in select studios all over the world. The list of records made on this desk includes everyone from Green Day, No Doubt and tons of others.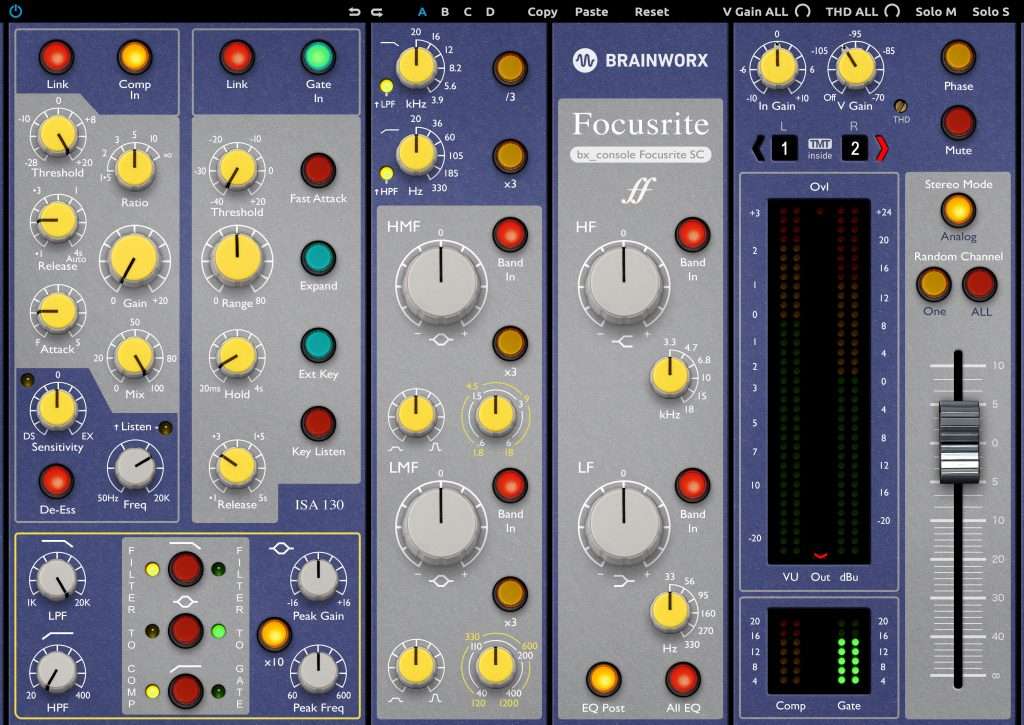 True and Faithful Emulation of the Analog Hardware in the Digital World
The plugin version of this legendary piece of gear, bx_console Focusrite SC continues the tradition started by our bx_console N and the SSL 4000 Series in that it offers 72 channels based on Brainworx's pioneering and patent-pending Tolerance Modeling Technology (TMT). Every one of bx_console Focusrite SC's 72 channels offers a different Focusrite channel by modeling the slight channel-to-channel variances amongst the analog components. Run a different channel across your entire mix and you can easily get the depth, width and punch that the original analog Focusrite Studio Console provided – all inside your DAW!
Most channel strip plugins on the market emulate a single channel of the desk that they are modeled from. So no matter how many instances of that single channel plugin you use in your mix, you get the same exact equalization and compression curves, along with identical frequency and phase response. And even if you use different control settings for each plugin on a track, you still end up with a flat, narrow and two-dimensional digital sound.
On the other hand, every channel on a large-format, analog mixing console sounds different, often yielding a more complex and dimensional sound. Our bx_console Focusrite SC accomplishes just this by using Brainworx's proprietary, patent-pending Tolerance Modeling Technology to accurately replicate the variations found in the values of over 150 individual electric components specified by the original console designer. This groundbreaking technology creates the small channel-to-channel variances in phase and frequency responses that you would get in an actual analog mixing desk.
And There is More!
Much like with the other plugins in Brainworx's expanding line of mixing-console emulations, the bx_console Focusrite SC is stacked with an arsenal of extra features designed by Dirk and his team of award-winning design engineers that make the plugin even more powerful than the original hardware. We added a Total Harmonic Distortion (THD) control which you can use to dial in some color and saturation along with a Virtual Gain control that can be used to add simulated noise to get an extra analog vibe to your tracks. Adjustable per channel, of course.
Our bx_console Focusrite SC is made in close collaboration with Focusrite to offer you nothing but the highest quality when it comes to the digital replica of this iconic original analog hardware. Try this channel strip in your mix today and experience the transparency, power and control of the world famous Focusrite console!
FEATURES
Endorsed and Approved by FOCUSRITE
Faithful emulation of the legendary ISA110 Equalizer Module and the ISA130 Dynamic Module include Comp/Limiter, De-Esser and Expander/Gate from the original Focusrite Studio Console designed by Robert Neve.
Brainworx´s TMT inside – Tolerance Modeling Technology (TMT, Patent Pending) simulates channel-to-channel variances in electronic components for the most realistic analog sound
Randomize function for picking emulated channel number
Adds several "mods"" to the already fantastic original design in the EQ and Dynamics sections
Continuously variable THD control adds colorful saturation independently per channel
Continuously variable Virtual Gain control adds simulated analog noise independently per channel for extra analog vibe
Loaded with plenty of useful presets to give you a starting place for finding your sound