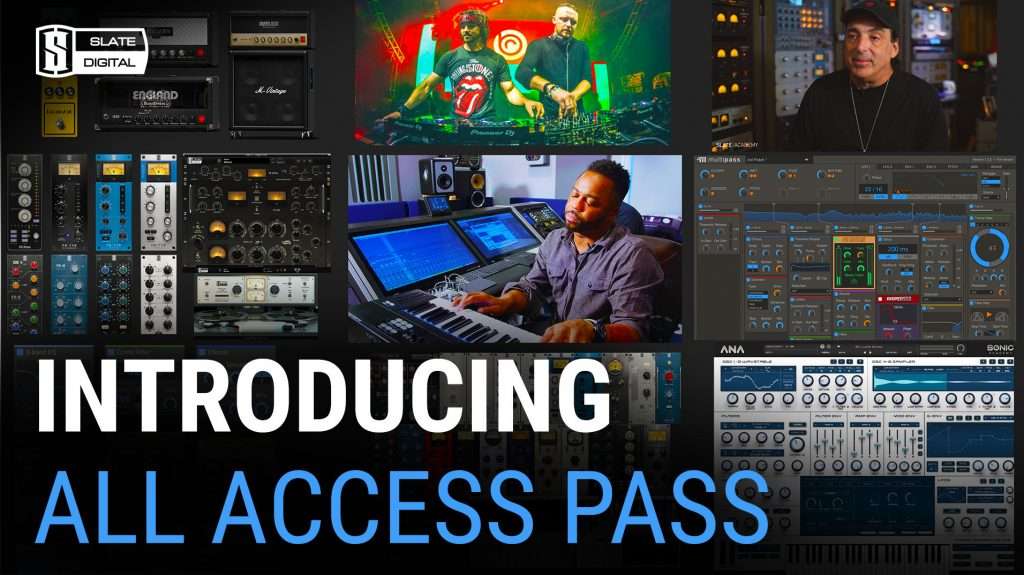 The Everything Bundle is no more. In its replacement, is the ALL ACCESS PASS.
Have no fear Everything Bundle members… you have already been upgraded to the ALL ACCESS PASS for FREE, check your email for details. But first let's talk about what the ALL ACCESS PASS is.
First and foremost, while the Everything Bundle exclusively offered you plugins, the ALL ACCESS PASS adds some incredible new music production services and applications for no additional charge.
And the first of these many new services that we've rolled out today is a BIGGIE . . . and it's called Slate Academy.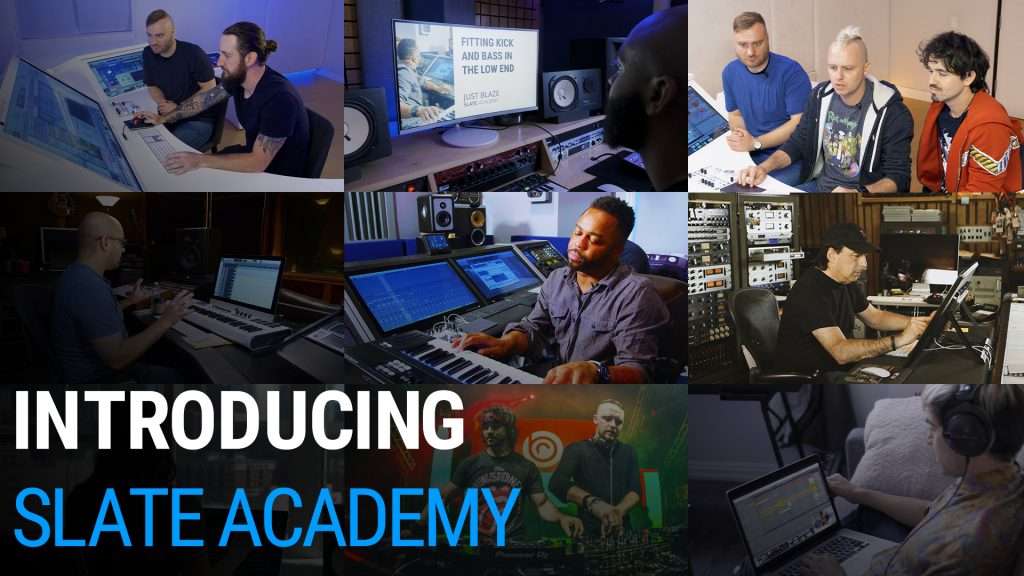 LEARN FROM INDUSTRY LEGENDS
Slate Academy aims to be the most comprehensive online music production school on the planet. Period. That's a bold statement, which means we'll have to do bold things.
So we've gathered up some of the biggest names in the industry to teach you all of the pro techniques that have made them the legends they are today.
Chris Lord-Alge is going to teach you how he gets his mixes to sound so huge. Just Blaze will show you the exact techniques he uses to produce hip-hop tracks for the likes of Jay-Z, Kanye, and more. DJs / Producers Sevenn will take you step-by-step through producing an incredible-sounding house track. Matthew Weiss will show you how he gets a huge-sounding pop mix that translates flawlessly. And Cameron Cartee will show you how he gets some of the best-sounding hip-hop vocals in the game.
Courses like these from other online schools would cost you around $300 alone, but it's now part of the NEW ALL ACCESS PASS.
Explore Slate Academy Courses: www.slatedigital.com/slateacademy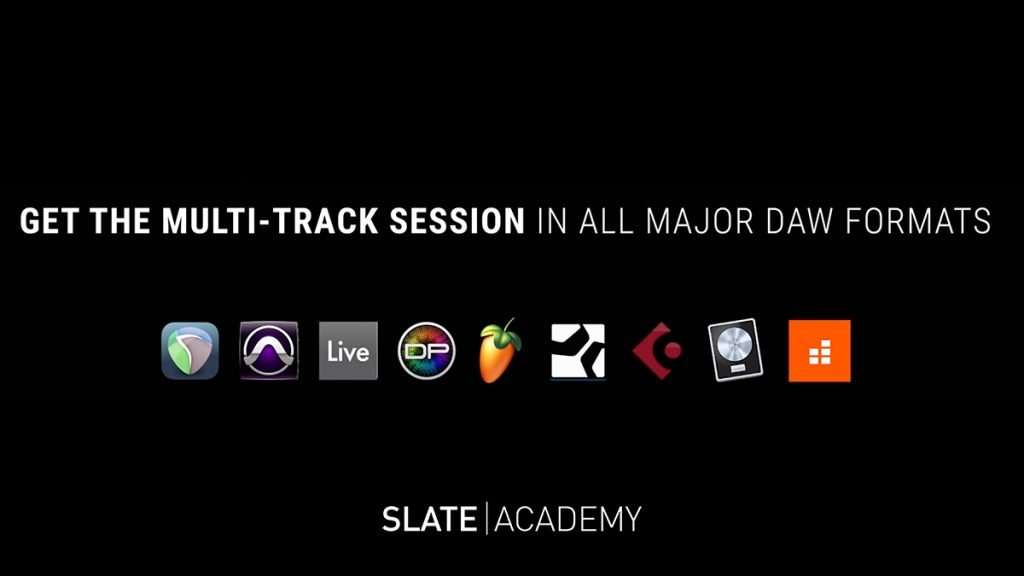 And with Slate Academy, you also get multitrack sessions in ALL MAJOR DAW formats; you get ALL the plugins as part of the All Access Pass; you get ALL the presets used in the course; and you get ALL the samples as well.
For the first time ever, you not only get to see how legends perform their craft, but also experience the entire process in your own studio, following along with every decision, every plugin setting, and every single technique.
Slate Academy also includes curriculum courses from beginner levels to advanced in all genres, as well as masterclasses in major DAWs like Ableton, Logic, and more! When you log in, you'll already see a 30-part Compression Masterclass, which will help you understand everything there is to know about this all-important tool.
Slate Academy will also be an invaluable resource for up-and-coming artists, with courses in music marketing, songwriting, and more coming soon!
* everything bundle members, please check your emails to find out how to get into your new all access pass and slate academy courses for free
Multiband Everything. Endless Effects.
For the first time in probably forever, this next announcement leaves me at a loss for words, because it's hard to describe just how powerful the Kilohearts Bundle is. But don't worry, I'll try

The Kilohearts Bundle adds 28 incredible new multi-FX plugins to the All Access Pass. Many of these individual plugins are truly groundbreaking. For instance, the Transient Designer is by far the best I've ever heard and sounds equally as good on individual tracks or full mixes.
But it's the ability to use the 28 plugins in the Multipass and Snap Heap plugin shells that makes this bundle an absolute GAME-CHANGER!


Multipass
Multipass allows you to create your own customized multiband processors using all of the 28 Kilohearts plugins. Let that sink in for a second.
Sure, you now have mastering multiband compressors, multiband stereo wideners, multiband distortion / saturators . . . but where it gets really fun and revolutionary is when you start combining everything together and stacking each multiband zone to make custom multiband processes that are impossible in any other tool.
Want a multiband processor with saturation and compression on the lows, transient enhancement on the mids, stereo widening on the upper mids, and sustain enhancement on the highs, all at once? No problem!
Want to build a custom multiband chain with a distortion on the lows, an LFO-modulated formant filter on the low mids, a reversed reverb in the upper mids, and a trance gate on the highs? Now you can.
Or even create and use more utility processors like a multiband sidechainer that ducks the low end of the bass every time your kick drum hits, so that your low end gets tight and huge. Pretty cool, right?
And I didn't even scratch the surface here to what the Kilohearts Bundle can do!

Snap Heap
Equally as cool is the Snap Heap plugin, which allows you to stack four chains of parallel or serial Kilohearts FX to create some unbelievable processors. You can make everything from custom compressors, vintage exciters that will sound insane on vocals, custom reverbs and special FX, or even some amazing vocal doublers. Get ready!
If this sounds intimidating, don't worry, because there are tons of great presets to get you started, including some featured preset plugins we've made like Destructo, a multiband vintage saturator; Smoothinator, a de-harshing plugin; 808 Fattener, which does exactly what the name says; and even a Vintage Tube Compressor, which is a super fat-sounding limiter with a tube output stage.
And finally, there's the 40-PART Kilohearts Masterclass Series that will make you a Kilohearts NINJA!
Explore Kilohearts: www.slatedigital.com/kilohearts-bundle



The Industry's Most Game-Changing New Synth
Our final announcement for the NEW ALL ACCESS PASS launch is the addition of our first virtual instrument, and we're starting with something really special.
Sonic Academy's ANA 2 is the industry's most groundbreaking synth, with 6 oscillators – including 3 wavetables and 3 samplers – the unique G-Envelope, 46 filter types, 24 built-in FX, and the revolutionary Chord Memory Device System, that offers instant pro chords on single keys to make producing pro tracks faster and more intuitive.
ANA 2 comes with over 500 presets, but the Slate All Access Pass version adds another 300 presets created by top sound designers, over 200 custom wavetables, and over 200 custom samples ranging from famous 808s to plucks to special FX.
Folks, I have never experienced a synth like ANA 2. The sound, the features, and the versatility are simply unparalleled. The pros who I've introduced it to have been floored.
And once again, we'll help you get started with an 18-part Masterclass, which will leave you a master of your ANA 2 craft.
With ANA 2, you'll be producing killer tracks within minutes!
Explore ANA2: www.slatedigital.com/ana-2-synth

Well folks, I hope you have enjoyed this blog, and, more importantly, that you're excited about the ALL ACCESS PASS!
But this is only the beginning. We've got so much more in store, and with the ALL ACCESS PASS, the software tools, courses, and upcoming services will keep on growing.
And don't worry, your plans WILL NOT renew at a higher price!
Join The All Access Pass, just $14.99/mo or save two months if you buy the year up front, just $149 https://www.slatedigital.com/sign-up/