Designed by award winning engineers, the Sugar plug-in color palette is its 'secret weapon to hit the sweet spot on every mix'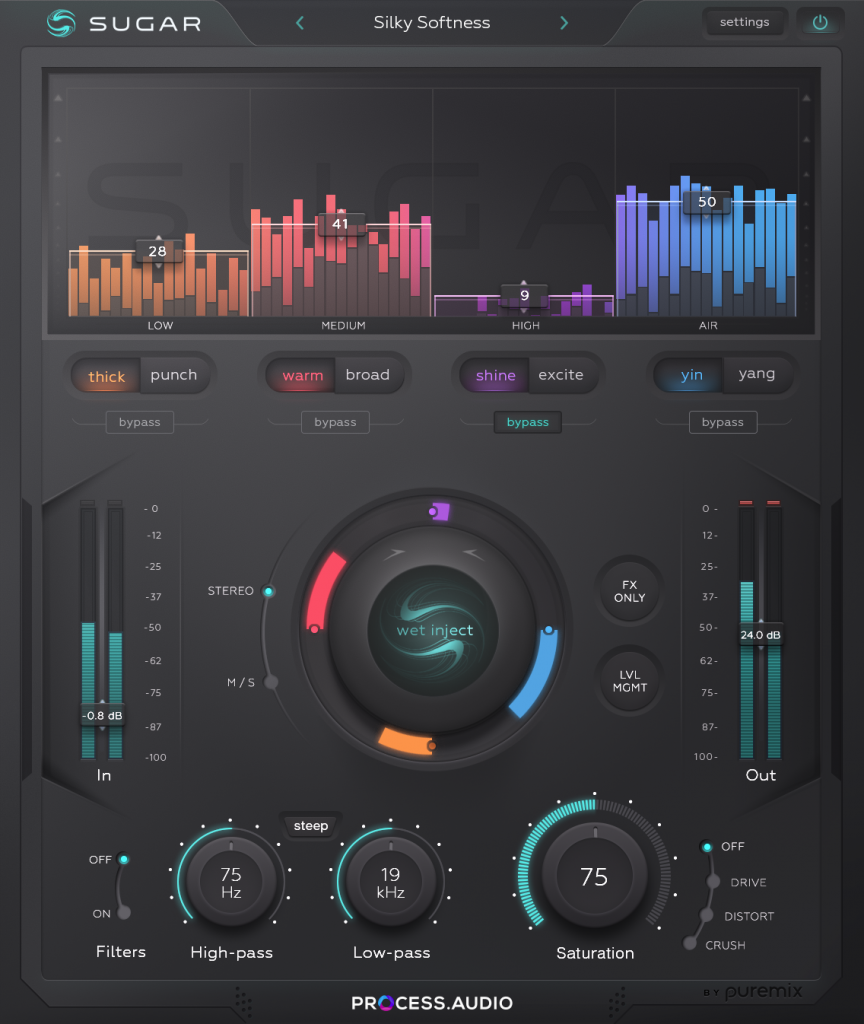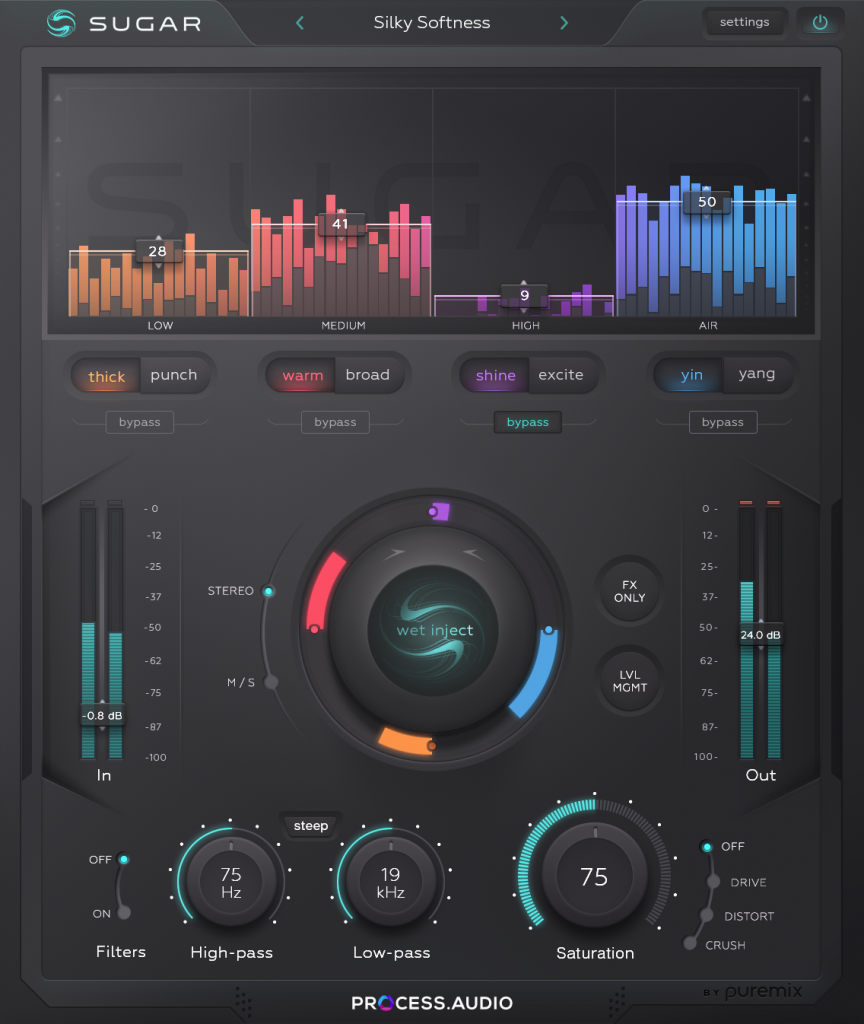 PureMix.net​— the world's premier audio learning community—is launching ​PROCESS.AUDIO​, a new audio-plugin brand dedicated to bringing the pureMix team's decades of studio experience to the world of software processing.
The brand's first product is Sugar: The Ultimate Audio Sweetener. Conceived by a team of world class producers and mixers, lead by Fab Dupont, Sugar is tagged as a 'secret weapon to hit the sweet spot on every mix'.
"Sugar was designed from the ground up to bridge the gap between classic analog sound and digital reality. I find myself using it on every mix."
— ​Fab Dupont ​- Award Winning Engineer
"Sugar is my new go to tool. Having fun enhancing sub low frequencies on the bass drum. High
frequency air for vocals. And of course helping sonically stale recordings come to life in a mix." — ​Darrell Thorp​ – Award Winning Engineer
"S​ ugarisanextgenerationpluginthatlivesuptothatanalogideal.It'suniqueandintuitive controls make sense right from the start, so I was off to the races with it immediately. From rescuing a boring drum buss to making a vocal sing, this thing is useful as hell. Sugar will live on many of my future mixes."
— ​Ryan West​ – Award Winning Engineer
A Complete Color Palette
Sugar is an audio color palette based on classic tricks used by top engineers to achieve great tones. Professional mixing engineers spend years refining techniques and processes to create the magical sounds the public hears on finished records. Beyond straight EQ and compression, these top engineers use processes that can be complicated to set up and tweak, and often require expensive gear to achieve. Sugar is a shortcut to those punchy kick drums, thick basses, sharp snares, edgy guitars, airy and creamy vocals, warm mixes and wide masters and much more.
Sugar saves time by centralizing these processes in one analog inspired plug-in without sacrificing the ability to fine tune for a professional experience. Sugar four effects are routed in parallel processing and work in mono, stereo and M/S (Mid-Side) mode.
Sugar signal flow is straightforward: the chosen effects are blended with the dry signal and routed through a High-Pass/Low-Pass linear phase filter combination to reign in the extreme amount of energy Sugar can add to the raw signal. (There can be such thing as too much Sugar). This blended signal is then run through the SATURATION section of the plug-in, where three carefully chosen saturation algorithms can tame unruly transients, add more grit to your sound, or simply destroy it in devastatingly creative ways.
Sugar interface is designed to streamline necessary but otherwise repetitive tasks and to allow engineers to dial in the perfect setting very fast and intuitively so they can focus on the music, not the tools.
A Linear Phase Delight
Sugar's four crossover bands and LP & HP filters are built on high grade linear-phase technology to avoid any of the common phase issues associated with parallel processing. This makes Sugar safe for 2-mix or mastering duties by guaranteeing the integrity of the source signal.
Sugar Learning Center
To cut the user's learning curve of this new tool, PROCESS.AUDIO created an expansiveLearning Center​ featuring many video tutorials on how to best use Sugar on distinct audio sources, as well as a thorough run-through of all the features.
Sugar owners can also enjoy a full 20-minute mixing video tutorial by prominent engineer Fab Dupont, demonstrating how he exclusively used Sugar to mix the soundtrack of the plug-in's release video. Users can freely download the source session of the mix and look at the settings in their own DAW. The session is available in Pro Tools, Logic, Cubase, Studio One, and Ableton formats.
About PROCESS.AUDIO
PROCESS.AUDIO is the Software division of pureMix.net, the world's premier audio engineering learning and education community.
This new plug-in company was founded by a team of world-class audio professionals, led by Fab Dupont, to create music making tools that strike the perfect balance between analog workflow and digital technology and become essential to their owners' process. PROCESS.AUDIO is creating a suite of plug-ins drawing from the experience and knowledge of award winning engineers and prolific day-to-day producers to achieve a professional sound faster than ever.
PROCESS.AUDIO makes audio plug-ins by the pros, for the pros.
Key Features:
● 4bandsofprocessing(Low,Mid,High,Air),with2differentcolorsperband? ● 8Colors:Thick,Punch,Warm,Broad,Shine,Excite,Yin,Yang?
● Jogwheelblendingknob?
● High-passandLow-passfiltersforfinetuning?
● 3Saturationcircuits:Drive,Distort,andDestroy?
● LinearPhaseModeforthe4bandcrossoversandthe2filters? ● LevelManagementtopreventburstsofenergy?
● FX-onlyswitchinordertohearwhatSugaraddstoyoursound? ● Input/Outputgain?
● Worksinmono,stereoandM/Smode?
Minimum System Requirements:
●  OS: Windows (64-bit) version 7, 8, 10 or higher or a Mac with OS X 10.9 or higher
●  Format: VST 2.4, VST 3, AU, AAX (native)?
●  Protection: iLok Cloud or iLok 2+ compatible?

Sugar will be available on March 6th, 2019 at $149 USD as a direct download from the PROCESS.AUDIO website.
Sugar can be tested with a free 14-day trial using a free Ilok Cloud account or with a user's iLok 2+ dongle.
Sugar will be made available to all pureMix Pro Members as part of their monthly subscription package.