In 2019, Toontrack celebrates 20 years of making software and sounds for songwriters, producers and engineers. During the final days of NAMM at an invitation-only event for a select group of music industry press representatives, Toontrack showcased some of the highlights to be released during the year as well as offered a press-exclusive first-hand look at EZbass.
"We've had an amazing 20-year journey so far and it's with great expectation and excitement that we look on to the future," says Peter Knutsson, Toontrack's Managing Director. "With all our planned content releases and with EZbass on the horizon, I'm confident that 2019 will be a great year for us as a company and, most importantly, for all Toontrack users from around the world."
"Over the past two decades, we've gone from one to hundreds of products in our catalog,"says Rikk Currence, CEO of Toontrack North America. "From literally inventing how to record multi-channel drum samples in 1999 to in 2017 setting completely new boundaries for what's possible with a modern-day drum sampler in Superior Drummer 3, we take pride in continually having spearheaded this niche of our industry. The introduction of EZbass presents the next and perfectly logical chapter in the evolution of Toontrack and how we aid our customers to more easily create music on their terms."

EZBASS
Welcome to EZbass, a groundbreaking new instrument that goes above and beyond a traditional "bass sample library." In 2019, Toontrack is proud to introduce the market's first bass software of its kind – one that focuses not only on pristine sound but also on fundamental features for effortlessly letting you add bass to your songs. For those familiar with Toontrack's products, EZbass is probably best described as the bass equivalent of EZdrummer 2.
"A bass software instrument that adapts the same intuitive flexibility as EZdrummer 2 is something the market is missing and that our customers repeatedly have asked for," says Erik Phersson, Toontrack Head of Software Development. "In 2019, we're proud to bring to market something that goes above and beyond a traditional sampled instrument. EZbass is a bass player as much as it is an immaculate sound library. It's been a joy to develop this new instrument and we can't wait to finally make it available to our user base later in the year."
FEATURE SPOTLIGHT
Revolutionary new bass software instrument
Combining the use of MIDI and smart songwriting features
Building on the framework of Toontrack's widely successful EZ Line products, such as EZdrummer 2
A sample engine optimized for use with bass samples, offering a new level of nuance and detail
Presets for a wide range of styles, based on amp and cab simulation as well as on the same complex network of effects used in all EZ Line products
Tentative release: Q4 2019

ORCHESTRAL PERCUSSION SDX
Captured in the same room, with the same scrutiny for detail and the same 11.1 microphone positioning philosophy as the Superior Drummer 3 core library, the Orchestral Percussion SDX is not just the perfect complement to the Superior line of sounds, it's a revelation in terms of flexibility and playability within the Superior Drummer 3 framework.
"The reception of Superior Drummer 3 exceeded every expectation we had dared dream of,"says Mattias Eklund, Toontrack co-founder and Head of Sound Design. "After having continued to build on the product line with the release of The Rock Foundry SDX by Bob Rock, we're truly excited to now introduce something beyond traditional drums. Even more importantly, a collection of sounds recorded with the same forward-thinking and immersive sound technology as the Superior Drummer 3 core library. I can't think of a more perfect continuation to the Superior Drummer 3 saga."
FEATURE SPOTLIGHT
More than 100 individual instruments
Recorded at the same studio as the Superior Drummer 3 core sound library
A complete immersive experience
Playback in stereo up to 11-channel surround systems
Sampled with extreme attention to detail and articulation
Optional tools available for selected instruments
Included MIDI for single instrument patterns as well as ensemble variations
Presets with corresponding MIDI examples
Tentative release: Q2 2019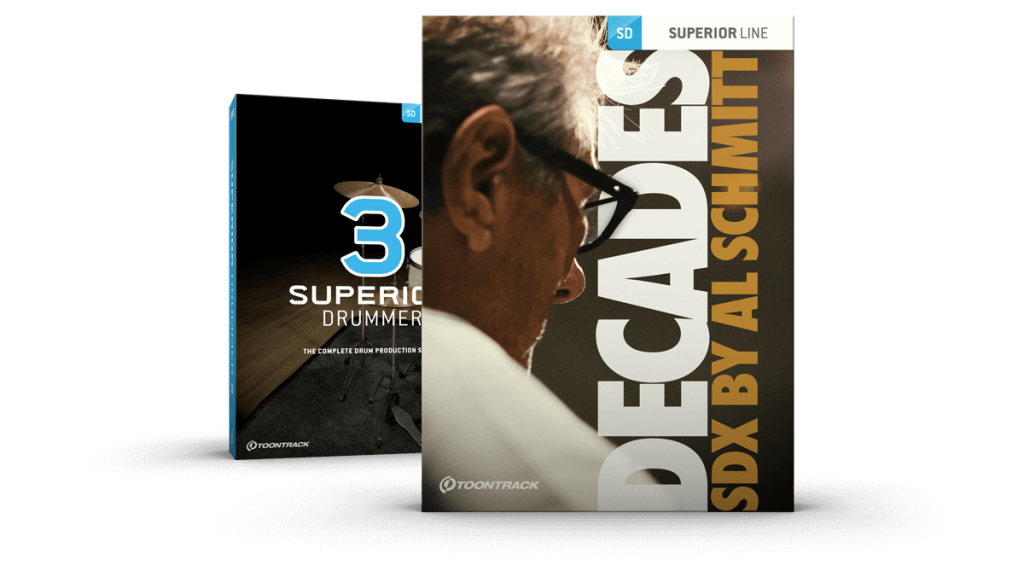 DECADES SDX BY AL SCHMITT
After close to nine decades on earth and nearing seven behind a studio console, 160 gold and platinum albums, 23 Grammy Awards and a star on the Hollywood Walk of Fame, Al Schmitt now adds a drum sample library to his list of credits (which already happens to include the likes of Ray Charles, Frank Sinatra, Sam Cooke and Miles Davis, to name a few). It goes without saying, that, come fall 2019, we are proud to bring you this all-new SDX and the signature sound of the most prolific audio craftsman of our time.
"The amount of bucket-list moments and legendary elements incorporated in this product are mind-blowing," says Norman Garschke, Toontrack Territory Manager and sampling drummer on several projects over the years. "Recording at Capitol Studios, undoubtedly one of the world's most classic rooms, is one. Securing the truly stunning collection of drums and cymbals that we got is another. And of course, having Al Schmitt, with his now almost seven decades' worth of experience working at the absolute apex of this industry, produce, engineer and oversee the entire project is a dream come true."
FEATURE SPOTLIGHT
Produced by 23-time Grammy Award-winning engineer/mixer Al Schmitt
Recorded at Capitol Studios in Los Angeles, CA
Five (5) kits (Slingerland, Pearl, Yamaha, Ludwig, Leedy)
12 snares, nine (9) kicks as well as a broad collection of hi-hats and cymbals
Includes several iconic original instruments, like the original snare drum used by Jeff Porcaro on Toto's "Rosanna" as well as Steve Ferrone's personal drum kit
Brushes and/or mallets available on select kits/instruments
Drums from the 1920s through the late 1990s
Recorded with an additional seven room microphones for playback in stereo up to 9.1 systems
Tentative release: Q4 2019

POP PUNK EZX
The Pop Punk EZX was recorded at the personal studio of John Feldmann, a Los Angeles-based producer/engineer/mixer who's had a monumental impact on the last couple of decades of popular music. It includes three full kits, all capturing that larger-than-life and all-American radio-friendly sound of the commercial and hook-driven pop punk music that has been a mainstay since acts like Blink-182, Simple Plan and Green Day broke onto the scene around the turn of the millennium.
"We've talked to John about doing this project for years, and finally both our schedules opened up," says Bill Terrill, Vice President of Sales and Marketing Toontrack North America . "John is an absolute legend in regards to this genre. We are proud to bring you his drum sound, one that in many ways has shaped the genre of pop punk as we know it."
FEATURE SPOTLIGHT
Produced/engineered by John Feldmann (Good Charlotte, Blink-182, 5 Seconds of Summer)
Recorded at Feldmann's personal studio
Three (3) full kits (SJC Custom and Tour series, Orange County D&P)
Mixed using samples from John's personal collection
Seven (7) snare variations, four (4) kicks and 12 cymbals
A broad selection of presets
Tentative release: Q1 2019