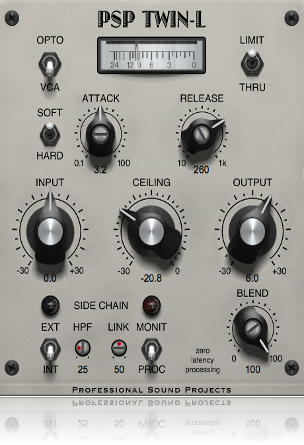 We are proud to introduce our new dynamic processor plug-in: PSP Twin-L – a dual algorithm classic limiter. The aim of this plug-in is to provide a wide variety of shaping options. The plug-in is able to emulate the main features of two types of limiter: VCA-limiters, which is a modern type of analog limiter, and Opto-limiters which are vintage optical limiters.
The new fully featured 30 day demo version is available on our download page. To see the PSP Twin-L in action you can visit our booth 19203 at the Winter NAMM show, which begins tomorrow.
Introductory offer!
Until the 3rd February 2019 you can buy PSP Twin-L at the special introductory price of $49*. As a registered user of our other processors plug-ins you can get it at an even better price (up to 44% additional discount). To see your final price for the PSP Twin-L: log into your user account, go to the store and put the PSP Twin-L into your cart. Starting from the 4th February 2019 the regular price of $69* will be applied. (* all prices include taxes)
For more information and demo: PSP Twin-L a dual algorithm classic limiter.