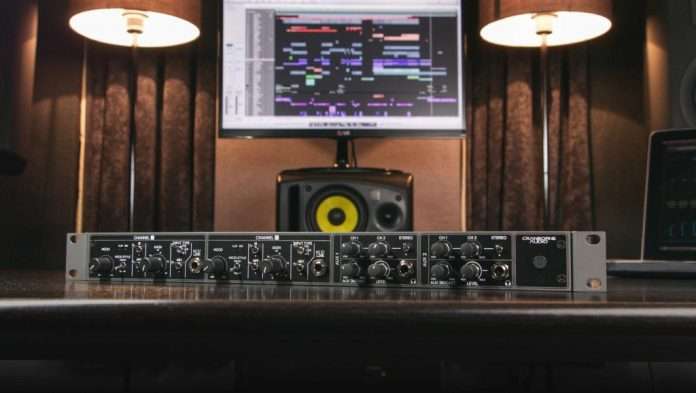 A year since Cranborne Audio began their journey in the humble surroundings of Hall E, the team are back at NAMM 2019 displaying an expanded product family. Alongside the award-winning Camden 500 and production-ready 500R8 and 500ADAT 500 series racks and digital interfaces, Cranborne Audio are welcoming 3 new additions to their product family that continue with the theme of technological innovation and groundbreaking application-based designs offering elite performance at accessible prices.
Cranborne Audio is very proud to announce Camden EC2; a two channel 19″ rackmount preamp, "Mojo" signal processor, and dual headphone mixer based on the award-winning Camden 500 preamp.
Featuring two discrete instances of Cranborne Audio's groundbreaking 'Camden' preamp with the same Mojo analog saturation circuit that engineers and musicians the world over have fallen in love with, Camden EC2 achieves stunning low-noise and low-distortion performance as well as frequency and phase linearity at all gain settings. Combined with Cranborne Audio's custom Mojo analog saturation circuit, Camden EC2 can take on the persona of a vintage British-style transformer-based preamp using Thump, a gooey tube-based preamp using Cream, or an astoundingly clean and natural preamp when Mojo is bypassed. Switch each Camden preamp into their line mode and the Mojo saturation circuits can apply vintage coloration onto stereo stems during the mix phase.
Packaged into a flexible and standalone 1U 19" chassis and featuring two reference-quality headphone amplifiers with discrete line mixers and independent CH1, CH2, and Aux Input level controls, Camden EC2's reference-quality headphone outputs can be used during mic placement to help find the sweet spot of a guitar cab, kick drum, or acoustic instrument. Alternatively, they can be configured to create a zero-latency all analog monitor mix combining the local Camden preamps with playback incoming from an external playback source.
Camden EC2 utilizes Cranborne Audio's unique C.A.S.T. system for distributing audio around studios by repurposing the internal copper wires of a Cat 5 cable to transport balanced analog audio to and from other C.A.S.T. enabled products. Connected to the C.A.S.T Inputs of another C.A.S.T. enabled product, Camden EC2 can send its preamp outputs directly into the inputs of the connected device whilst simultaneously receiving a monitor mix to monitor using Camden EC2's Aux 1 headphone mixer.
Much more than two Camden 500's in a metal box, Camden EC2 is a unique high-performance professional, project, and home studio solution. The Camden is EC2 is manufactured in the UK under the team's watchful eyes whilst providing elite audio specifications and application-based features that defies its price tag – making accessible for all professional, project, and home studio engineers.
Product Highlights:
● Two discrete Mic/Line/Hi-Z preamps featuring the award-winning 'Camden' topology from the Camden 500 Preamp and Signal Processor for 500 series
● Fully-discrete, transformerless design featuring designed by Cranborne Audio's Director of Engineering – Edward Holmes
● Audio performance at the near-theoretical limits of noise, distortion, and phase/frequency linearity at all gain settings
○ EIN: <-129.5dBu, 150 ohm source, unweighted, <-135.5dBu, Inputs common, unweighted
○ THD+N: <0.0004%, 1kHz, 35dB gain, 24dBu out
○ Intermodulation Distortion: <0.0008%, 50Hz and 7kHz, 35dB gain, 20dBu out
○ Phase Shift: <2.25°, 40dB gain, 20Hz to 20kHz, <4°, Max gain, 20Hz to 20kHz
○ Freq. Response: <±1dB, <5 Hz to >200 kHz, all gain settings
○ CMRR: >70dB, typ >85dB, 35dB Gain, 10-20kHz, 100mV Common mode
● Two instances of 'Mojo' analog saturation circuits with variable controls, true bypass, and 2 discrete styles
– Thump and Cream
○ Thump excites low-end content by boosting lower odd/even harmonics from a range of 160Hz to
20Hz and below
○ Cream boosts odd/even harmonics whilst also reducing the amplitude of the fundamental
frequencies and applying typical transformer-style transient taming
● Two discrete headphone mixers with independent CH1, CH2, Aux Input, and Master level controls
○ Monitor the preamps during mic placement to find the sweet spot
○ Create cue/monitor mixes using combining local Camden preamps mixed with external playback.
○ 1⁄4" Aux Input Jacks for connecting audio playback into Camden EC2's headphone mixers.
○ 'Stereo' switch to pan CH1 & CH2 left and right in each headphone mix for true stereo monitoring
of live sources
● Dual reference-quality, high-powered headphone amplifiers
○ Freq. Response: <±1dB, <5 Hz to >100 kHz
○ Output Impedance: 0.33 Ohms
○ THD: 0.0003%, 1kHz
○ Output Wattage: 2x250mW @ 600 ohm, 2x450mW @ 220 ohm, 2x250mW @ 100 ohm
● Balanced XLR outputs and impedance balanced 1⁄4" jack outputs for maximum connectivity into audio interfaces and other downstream equipment
○ XLR outputs with 26.5dBu max output level
○ 1⁄4" Jack outputs with 20.5dBu max output level
● Dedicated 1/4″ 'Link' outputs for true instrument DI functionality and splitting instrument inputs to a
backline amplifier
● C.A.S.T OUT port for connecting Camden EC2 into 500R8/500ADAT
○ Transmit Camden EC2's preamps directly into 500R8 and 500ADAT's 500 series modules inputs for recording
○ Receive a stereo mix generated from 500R8/500ADAT and monitoring using Camden EC2's headphone mixers
○ All managed and distributed via a single shielded Cat5 cable
● C.A.S.T IN port for connecting N22/N22H Cat 5 snakes to relocate Camden EC2 I/O elsewhere in the
studio
○ Receive 2 inputs from N22/N22H directly into the preamp inputs of Camden EC2
○ Transmit Camden EC2's Aux 1 headphone mix into N22/N22H for direct monitoring by the musician
○ All managed and distributed via a single shielded Cat5 cable.
● External high-current 24v 1a power supply with latching connector.
● Designed, engineered and manufactured in the United Kingdom.
For more information: Cranborne Audio Home – A modern approach to vintage sound