From the company that brought you exclusive Tube-Tech CL 1B, PE 1C, and ME 1B plug-ins, Softube is exceptionally proud to announce the officially licensed multiband magic of the one-and-only Tube- Tech SMC 2B Multiband Compressor. With this stellar three-band opto compressor, you get the flexibility and fidelity you have been missing for your dynamic processing tasks and mix buses, as well as vocal, drum, and bass buses.
The choice of the world's top engineers, producers, studios, and mastering houses, the original SMC 2B hardware, the only all-tube multiband opto compressor, is well-known for its remarkable high fidelity and extreme flexibility.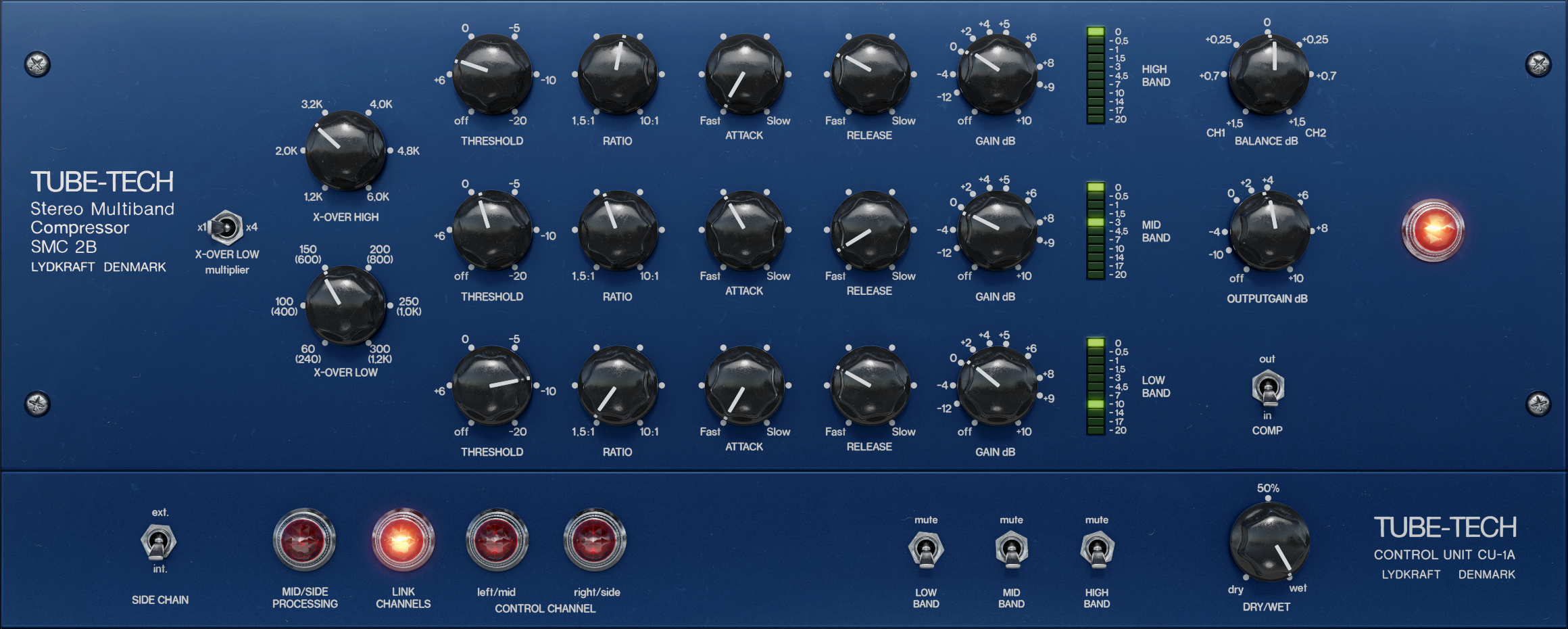 Softube has accurately modeled every component and stage, making the software indistinguishable from the hardware in our tests.
Added modern features, such as stereo processing via linked or selectable Dual Mono operation, mid/side processing, parallel compression via the Dry/Wet knob, and Sidechain input, mean users can get even greater control and flexibility plus the authentic analog sound and vibe of this exclusive three-band opto compressor. It's not an illusion. It's the magic of Tube-Tech SMC 2B Multiband Compressor.
More magical: Tube-Tech Complete Collection 2
Softube is also releasing a new version of its indispensable collection of true-blue tools. Tube-Tech Complete Collection 2 offers everything the former collection had plus the new Tube-Tech SMC 2B Multiband Compressor. And more tricks up the sleeve. Current Tube-Tech Complete Collection owners can upgrade to Tube- Tech Complete Collection 2 for a special price.
The Generation Switch trick: Tube-Tech CL 1B & Classic Channel Mk II
Softube has worked its design wizardry in an update to its popular Tube-Tech CL 1B and Tube-Tech Classic Channel Mk II plug-ins. Now, both amazing versions of the CL 1B compressor are available in a single interface. It's never been easier to get the sound of one, or the other. The new CL 1B Generation Switch lets you effortlessly toggle between the sound of Tube-Tech CL 1B Mk I and CL 1B Mk II.
In Short:
Tube-Tech SMC 2B Multiband Compressor
A precise model of the top-tier Tube-Tech SMC 2B hardware
The authentically captured analog sound and behavior of the high-
fidelity hardware
The control and flexibility of the iconic multiband original with added
modern features
Tube-Tech Complete Collection 2
Tube-Tech SMC 2B Multiband Compressor — new ▪ Tube-Tech CL 1B Mk II — updated
Tube-Tech Classic Channel Mk II — updated
Tube-Tech Equalizers Mk II
Current Tube-Tech Complete Collection owners can upgrade to Tube- Tech Complete Collection 2 for a special price
Multiple upgrade paths available for all Tube-Tech owners • NEW: Tube-Tech CL 1B updates
Now featuring the CL 1B Generation Switch to alternate between the sound of Mk I and Mk II
Softube Tube-Tech SMC 2B Stereo Multiband Compressor
Release date: October 31st, 2023
Intro price: 209 USD until December 31st, 2023 (Regular price: 299 USD)
Softube Tube-Tech Complete Collection 2
Release date: October 31st, 2023
Intro price: 419 USD until December 31st, 2023 (Regular price: 599 USD)
Special upgrade offers: intro price starting from 104 USD until December 31st, 2023 (Regular price starting from 149 USD)