For over six decades, audio transformers have been the bedrock of Mr. Rupert Neve's audio circuit design philosophy, and Rupert Neve Designs' bespoke transformers are an integral part of virtually every RND product. Packed with these transformers, the MBT provides a number of features designed to "sweeten, enhance, drive, widen, and utterly transform source material", and is intended for use on full mixes, groups, stems, or individual mono or stereo tracks.
The Master Bus Transformer's INPUT section contains a +/-12dB Trim control, LEDs to indicate input / peak level, and a high-pass filter sweepable from 15Hz to 100Hz. This feeds into a new 2-band Shelf EQUALIZER circuit with 3-octave ranges, gentle slopes, and minimal phase shift. Each band has +/- 9dB of gain control, with the LF EQ corner frequency variable from 30Hz to 240Hz and the HF corner variable from 3kHz to 24kHz. From the company: "One exciting aspect of using the MBT is discovering how the different sections can interact with each other. Sometimes the EQ can be dialed in first, other times it can be left alone until the other sections are dialed in. We always encourage experimentation."
The COLOR COMP is an all-new optical compressor design which "excels at accentuating the non-linear distortion and 'colorful' characteristics of the Opto cell". The ratio can be set to 2:1 for subtlety or 5:1 for more dramatic reduction, the high-pass side chain filter is sweepable from 20Hz to 350Hz to allow low frequencies to pass through uncompressed, release time is variable from 100mS to 1.5S, and the BLEND control provides the ability to compress in parallel with the source material. A green LED indicates gain reduction, and 20dB of Class-A make-up gain is available, intended not only for level-matching but also to drive the interstage transformers found in the SUPER SILK section.
While the WIDTH section was inspired by the Stereo Field Editor (SFE) found in the award-winning Portico II Master Buss Processor, the MBT's circuit "has undergone further refinements and now includes a greater additive range for more extreme operation." It also includes a variable high-pass filter from 50Hz to 800Hz, so lower freqencies can remain unaffected and centered in the mix as the mids and highs are spread out.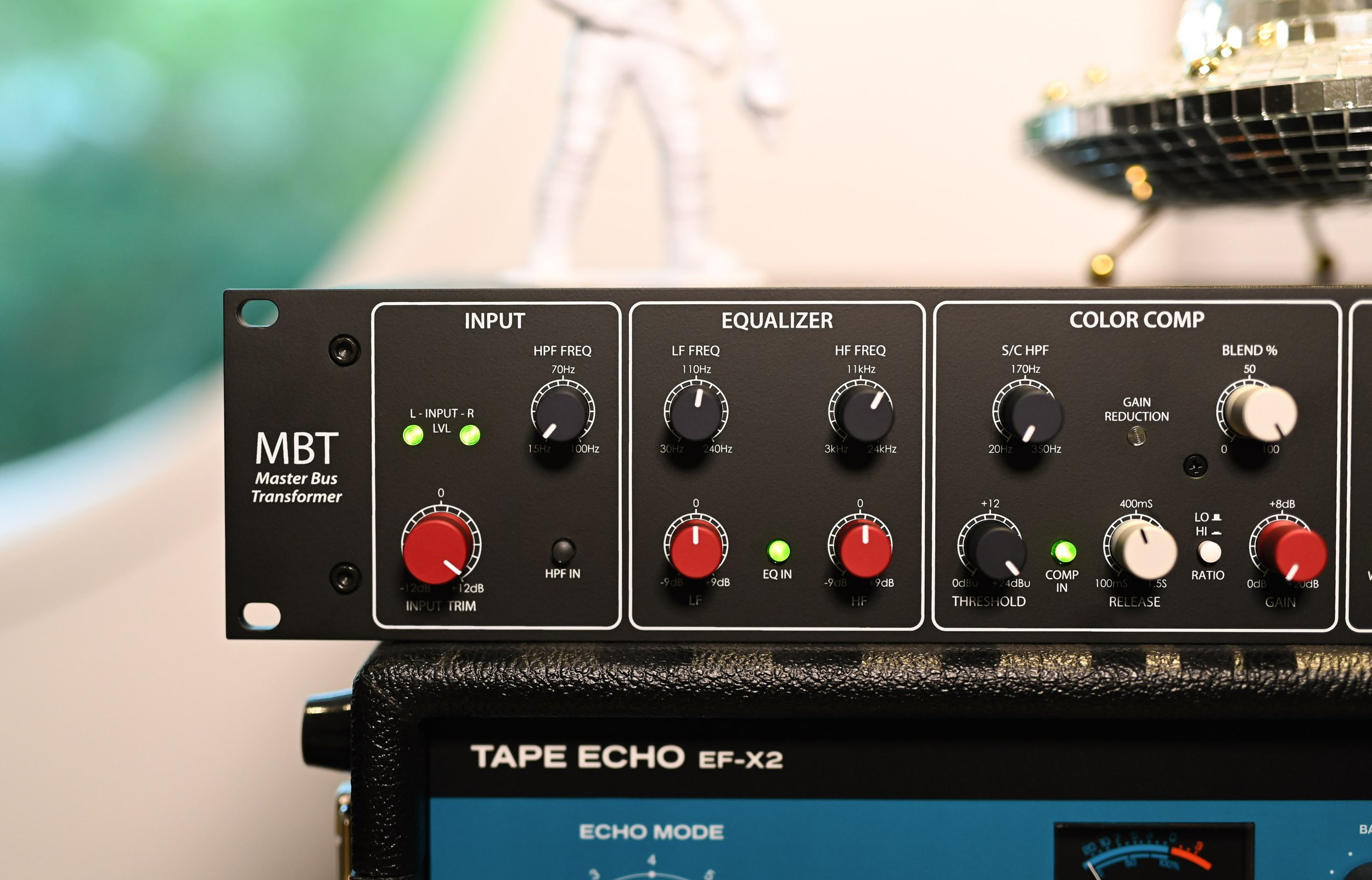 Finally, SUPER SILK builds on the popular "Silk" harmonic saturation circuit found in many of the company's products. With the MBT, both Red and Blue Silk modes are now available simultaneously for independent control over both lower and upper frequency harmonics, and an interacting "Harmonics" control determines the overall musical harmonic saturation from this section. A red LED illuminates when the signal level reaches the optimal range for Silk operation, and a new Zener Drive circuit can also be engaged to introduce a more aggressive tonality as the signal approaches the edge of the MBT's headroom.
The OUTPUT section includes a +/-12dB Trim control and a pair of 16-segment LED meters to show output level. The MBT includes Class-A input and output amplifiers to maintain optimal gain staging throughout the MBT, fully drive the custom interstage & output transformers, and accurately match the pre / post signals.
The Master Bus Transformer is made in the USA and is now shipping worldwide, with a manufacturer's suggested retail price of $3,999 USD / €3,699 EUR / £3,199 GBP (all prices exclude local taxes).