Kuopio, Finland, April 6, 2023— Finnish loudspeaker manufacturers Amphion have announced One25A, the company's first 3-way active studio monitor design. The new monitor exemplifies the brand's 25-year commitment to advanced acoustic design, top-quality component selection, and pure signal path while providing a uniquely Amphion twist to the perks of an active monitor design. Despite its compact size the One25A is a powerful, full range monitor designed for the modern sound making environment. The One25A opens the doors to not only recording studios, but also commercial studios, educational facilities, post-production, classical recording, composers for film— that require true full range. ​ The One25A will be on display and can be experienced at Booth 15513 in the North ACC Hall in Anaheim at the 2023 NAMM show.
Listening for impact, designing for results
The brand's dedication to honest and impactful audio and innovations in cabinet construction, driver selection, and crossover design have made them favorites of engineers and producers the world over including Jacquire King, Josh Gudwin, Mike Dean and Finneas O'Connell. This singular dedication to representing sound in ways that move the heart as well as the head similarly impacted the approach to the design of One25A. "Some might be a bit surprised about introduction of an active Amphion product, but it must be remembered that One25A's active 3-way high-resolution filter is simply a natural progression from the active 2-way filters that we have utilized in our Base systems since 2015. Our design philosophy has always been results– not technology –oriented. So, we use whatever approach we feel works best for a certain product," explained Amphion CEO Anssi Hyvönen.
As with all Amphion monitors, One25A's unique approach starts with its cabinet design. The compact monitor utilizes an innovative sealed dual cabinet with isolated bass and midrange chambers to minimize acoustic cross-coupling and provide superior resolution and clarity. The baffle around the midrange chamber is acoustically symmetrical for a smooth frequency curve and precise imaging, and the design also incorporates the 5th generation of Amphion's proprietary U/D/D (Uniformly Directive Diffusion) into the speaker for improved driver integration and speaker performance. Resonance and energy transfer are also optimized in the hexagonal bass cabinet design for a rich bass response that feels impactful, but precise. The result is a tight, tuneful reference monitor with all of the speed and accuracy users have come to expect from Amphion.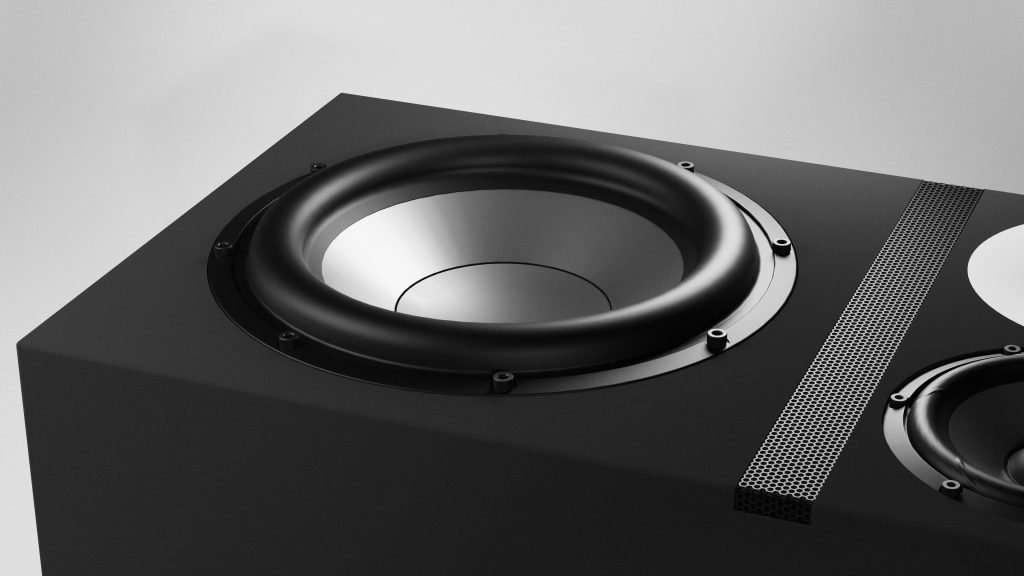 Compact design, classic Amphion performance
​​
​To achieve the highest signal integrity and the sonic transparency Amphion is known for, a minimalistic cross-over design was needed. Building on the 2-way active circuitry of the Amphion Base-units, a mastering grade resolution is now available in an active 3-way monitor. Key factors such as high bandwidth, no higher order or cross-over distortion and excellent signal-to-noise ratio translate into an effortless and rich listening experience.
In terms of electronics, One25A's matched amplifiers provide excellent headroom and full-range power suitable for all applications including music creation, film and TV scoring, and audio post-production. Electronic components are located on the exterior and are well isolated from the speaker enclosure, which not only improves performance but ensures long life and easy serviceability as well as adaptation to soffit mounting. As with Amphion's passive monitor designs, the One25A achieves the benefits of pure, short, signal path that maximizes dynamics, resolution, and emotional transfer.
"At Amphion we have learned that recreating the beauty and emotional impact of sound takes more than just chasing the latest technology— and that listening is big part of our development process," said Hyvönen. "We're thrilled to bring One25A to the market and proud to have it alongside our existing monitor lines as another way to experience the difference Amphion can make to your workflow."
Availability ​
​
​The One25A is available for pre-order on April 13, 2023 for $14,900.00 USD per pair. Shipping will begin on August 1, 2023. For more information about Amphion, please visit: https://amphion.fi/
​Technical Specifications
Operating principle – Active, 3-way, sealed cabinet
Tweeter – 25 mm / 1" titanium
Mid – 15 cm / 5¼" aluminum
Bass – 25 cm / 10" aluminum
Crossover points – 100 Hz / 2000 Hz
Amplifier power – Bass 700 W ​
​Tweeter / Midrange 2 x 205 W THD + N 0,002% ​
Frequency response 22 – 22 000 Hz (-3dB)
Max SPL – 112 dB
Connections – Balanced XLR Input, 1x Female XLR, pin 2-hot
Mains – 100-240 V, 50-60 Hz (Auto select)
Measurements (H x W x D) – 316 x 510 x 487 mm ​
Weight – 41 kg / 91 lb