Focusrite is proud to introduce the Clarett+ OctoPre, a professional-quality 8-in/8-out ADAT microphone preamp with eight dedicated channel inserts and eight professional quality, low distortion, low noise mic preamps for the adaptable engineer. Featuring All-analogue Air, Clarett+ OctoPre emulates the classic Focusrite ISA 110 from the original Studio Console, it's high-quality A-D and D-A converters offer pristine conversion and with connection to a 2Pre,4Pre or 8Pre it is easy to expand I/O via ADAT.
GET PROFESSIONAL DRUM RECORDINGS
The Clarett+ Mic Pre helps you achieve clear recordings in any session. With eight professional quality, low distortion, low noise mic preamps featuring fully balanced signal paths that give sessions the professional Focusrite sound.
GET THE CONSOLE SOUND
All-analogue Air with impedance switching and relay-controlled analogue circuitry emulates the ISA 110 mic preamp from the original Focusrite Studio Console. It captures transients on drums, makes vocals shine, and ensures a precise, clear recording.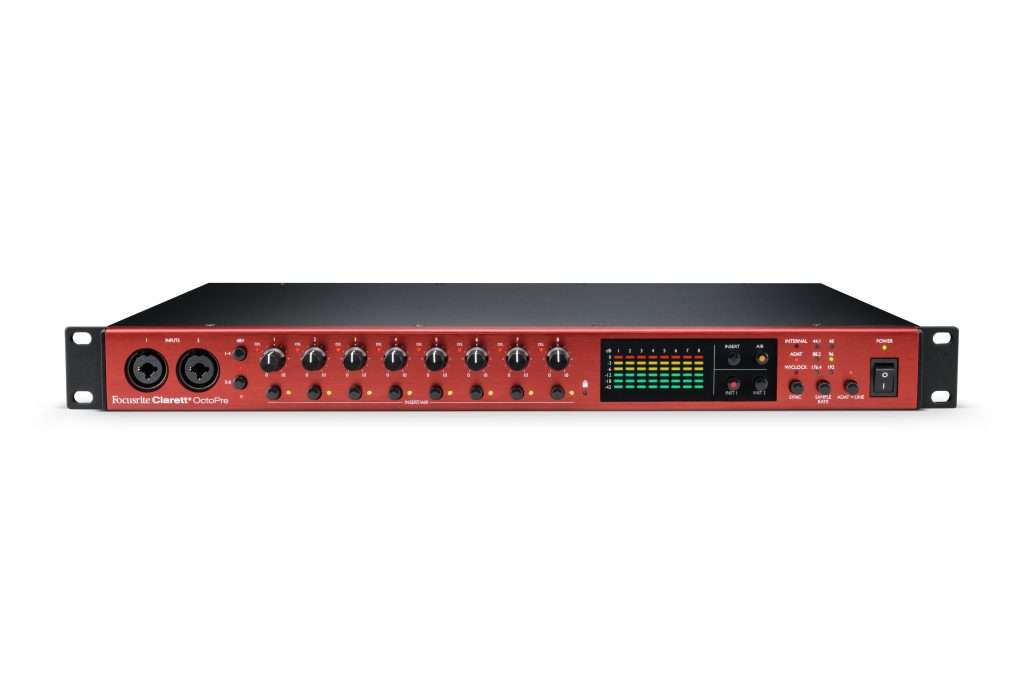 CAPTURE THE TRUEST VERSION OF YOUR SOUND
Achieve clear recordings in any session. With 118dB of dynamic range and -129dBu EIN, the natural sound of source signals is preserved. The fully balanced signal path ensures inbound signals are clean and with ultra-low noise — giving sessions the professional Focusrite sound.
TRACK THROUGH YOUR FAVOURITE OUTBOARD
Eight dedicated channel inserts let you to easily add analogue equipment to the signal path.
CLEAR, ACCURATE MULTI-TRACKING
Handle any recording session with Clarett+ OctoPre's improved A-D conversion. Ultra-low noise and ultra-low distortion combined with powerful preamps that produce professional-sounding tracks ready for mixing.
MAINTAIN YOUR SIGNATURE STYLE
Exceptional D-A conversion retains audio quality and allows engineers to easily process audio in their signature style when sending audio to analogue compressors, EQs, and effects.
PREMIUM-QUALITY AUDIO OVER ADAT
Add Clarett+ OctoPre to a 2Pre, 4Pre or 8Pre to expand your I/O easily and record the whole band together.
PRESERVE THE NATURAL TONE OF YOUR GUITAR
Capture the true characteristics of guitars with Clarett+ OctoPre's JFET guitar inputs. Wide input bandwidth retains high frequencies and feels like you are plugging straight into an amp.
EQUIPPED FOR ANY STUDIO SESSION
Eight channels in and out over ADAT at 48kHz, eight line outputs, and word clock in and out.
BRING THE CLASSIC FOCUSRITE SOUND TO TRACKS
With Brainworx bx_console Focusrite SC and Red Plug-In Suite.
HITMAKER EXPANSION — ALL THE SOFTWARE YOU NEED
Hitmaker Expansion offers a bundle of studio-quality plug-ins and virtual instruments:
• bx_console Focusrite SC from Brainworx.
• bx_masterdesk.
• Focusrite Red Plug-in Suite featuring RED 2 and RED 3.
• Antares® Auto-Tune®  Access.
• XLN Audio® Addictive Keys.
• Relab LX480, and more.
In addition, receive regular discounts and exclusive versions of the most innovative software titles from Focusrite's Plug-in Collective.
CLARETT VS CLARETT+ COMPARISON
This table shows the various improvements made to Clarett+ compared with the previous Clarett range.
Comparison table: https://focusrite.com/en/clarett-vs-…lus-comparison
Learn more about Clarett+ OctoPre: https://focusrite.com/en/adat-mic-pr…t-plus-octopre