PRAGUE, CZECH REPUBLIC: independent development teams federation United Plugins is proud to present Electrum — available as an all-in-one single-screen guitar amp and pedalboard plug-in from development partner Muramasa Audio, itself inspired by bygone masterworks of a famous Japanese swordsmith to which it (partly) owes its notable name by bringing the perfection of old masters into the audio world, with everything needed to achieve a perfect sound for any electric guitar quickly and easily within a single window — as of June 21…
In today's teeming marketplace, most — even great-sounding — guitar software suffers from flawed design, doing little to enhance efficiency and comfort when put to work in a musical environment. Ergonomics is, conversely, central to Muramasa Audio executing Electrum as an all-in-one single-screen guitar amp and pedalboard plug-in, providing its intended users with the fastest way to turn ideas into the perfect guitar sound. No need to take a deep dive through muscle memory-taxing menus in search of hidden options since everything is already accessible on one screen — cue colour-coded AMP, AUTOWAH, CABINET, COMPRESSOR, DELAY, DISTORTION, DOUBLER, EQ, GATE, MODULATION, and REVERB components, clearly viewable as part of the plug-in's photorealistic 3D or flat 2D graphics at the convenient click of an appropriate button without affecting the sound or CPU (Central Processing Unit) load. Readily reordering those components is simply a case of dragging and dropping them into the desired position in the effect chain, without worrying about adhering to real-world setups to encourage experimentation. Examples like having a heavily- amped Reverb sent to the Modulation section's FLANGER or trying the Distortion pedal after the Amp might well be impossible in the real world, yet all are perfectly possible in the wonderful world of Electrum! Duly double-clicking on the components' colour-coded rectangles instantly bypasses them or otherwise for furthering ease of use.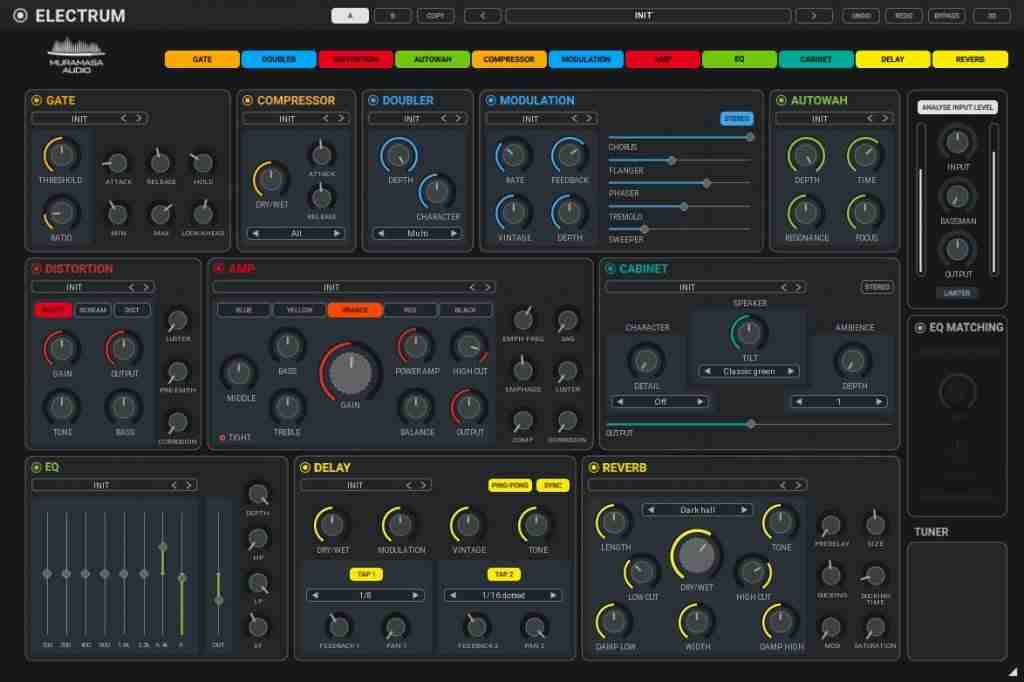 Ultimately, achieving a perfect sound for any electric guitar is, indeed, quick and easy when working with Electrum, so let us dive deeper into what is on offer — no menu diving required! Featuring five versatile amps — BLUE, YELLOW, ORANGE, RED, and BLACK — arranged from lighter touch to most extreme, Electrum's Amp section is at the effect chain's core. Conveniently, all share the same controls, placing familiarity at the heart of a delightful user experience enhanced further with fast workflow.
Elsewhere, Electrum's unique Cabinet comes complete with 16 SPEAKER sounds based on classic guitar cabinet loudspeaker measurements, customisable to produce over 300 virtual cabinets! Acting as a true virtual simulator with several parameters, including a bank of AMBIENCE responses to simulate the reflections from real cabinet surroundings, it produces a much smoother and natural sound by avoiding any unnatural resonances present in almost all classic IRs (Impulse Responses) — no need to audition any IR files in what can sometimes seem like a never-ending search for the right tone, in other words.
While most guitarists are already familiar with traditional double-tracking techniques, they will also be well aware of just how difficult and time consuming it is to perform the same part twice with the same feel and timing. The Doubler section in Electrum is a powerful alternative, producing a thick and wide sound without needing to record the same part twice — easily enable Electrum's Doubler, record once, and move on.
It is fair to say that having access to great-sounding reverb is essential — especially when it comes to creating great-sounding guitar solos, so Electrum encompasses an extremely versatile Reverb featuring 18 powerful algorithms simulating springs to plates and halls to rooms through to shimmer and ethereal reverbs with wide- ranging controls including DAMP LOW — controls the absorption of the low frequencies, DAMP HIGH — controls the absorption of the high frequencies, and DUCKING — controls the amount of ducking applied on the effected signal and following the dry signal, amongst others.
As a flexible double-tap affair with SYNC — synchronising with the BPM (Beats Per Minute) of the host DAW (Digital Audio Workstation); PING-PONG — whereby the first echo appears, for instance, in the left channel, the next in the right, then back to the left, making for a nice stereo field; MODULATION; SATURATION; and more, Electrum's Delay duly delivers.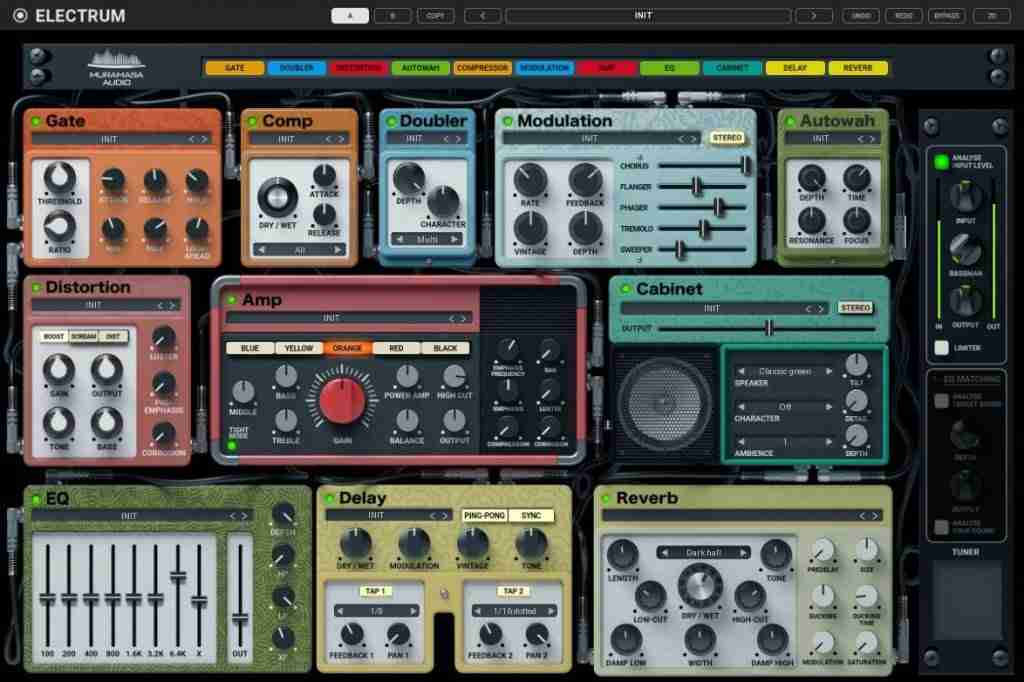 Back, briefly, in the real world, modulation duties are usually handled by several stomp-boxes spread over a pedalboard, but Electrum takes a different approach by blending multiple effects into its Modulation section, serially executed as they appear — as CHORUS, FLANGER, PHASER, TREMOLO, and SWEEPER — on the GUI (Graphical User Interface) to allow users to quickly create unique effects with all algorithms automatically synchronised… 'Sweerus' or 'Trenger', anyone? Anything is possible!
Anyone aligning themselves with ever-popular rock and metal guitar playing already knows that distortion pedals provide clarity to low-end frequencies with additional drive when needed. Needless to say, Electrum's Distortion is the mother of all distortion pedals, providing three different types — BOOST, for adding a little kick for the Amp section; SCREAM, for creating medium level distortion; and DIST — for maximising distortion for extreme metal styles. Again, all share common controls to ease operation and speed up workflow.
Without doubt, Electrum's pedalboard rocks, with yet more perfect sound creation possibilities on offer, thanks to the inclusion of several smaller sections, such as the self- explanatory Autowah — an essential ingredient for funk, for example, as an automatic wah-wah filter following the INPUT level; Comp — compressing or reducing an audio signal's dynamic range (which when placed before the Amp will stabilise its distorted character or stabilise the OUTPUT level when placed after); Gate — commonly called a noise gate (which is usually positioned first in the processing chain); and last, but far from least, EQ — providing a powerful graphic equaliser for further customising the tonal response (which when placed before the Amp will also affect its distorted character or only change the tone when placed after). But better still, Electrum's EQ MATCHING component does just that — automatically transferring the sonic characteristics of an analysed guitar sound to the user's own sound with amazing accuracy!
A number of other notable features — including an advanced spectral analysis-based polyphonic TUNER (to ensure that performances are never out of tune) and easy-setup INPUT level analysis — are also available in Muramasa Audio's amazing all-in-one single-screen guitar amp and pedalboard plug-in. Put it this way: with a ton of professionally-programmed presets to help guide guitarists where they wish to go, Electrum effectively provides everything needed to achieve a perfect sound for any electric guitar quickly and easily within a single window while making use of its internal 64-bit audio processing to handle any sampling rate up to 192 kHz (or even higher) plus smart bypass and intelligent sleep on silence attributes, all aimed at separating it from the sound of the (plug-in) crowd in today's teeming marketplace.
Muramasa Audio's Electrum is available to purchase for a time-limited super-introductory promo price of only €15.00 EUR until July 4, 2021, with another attractive time-limited promo price of €39.00 EUR continuing throughout the summer months until September 5, 2021 — rising thereafter to its regular price of €139.00 EUR — as an AAX-, AU-, VST-, and VST3-compatible plug-in (using internal 64-bit audio processing capable of handling any sample rate) directly from United Plugins here: https://unitedplugins.com/Electrum/ (Electrum entails more testing as a larger-scale plug-in project than can comfortably be handled by United Plugins' production team alone; as such, users are invited to join its beta programme here: https://unitedplugins.com/betaprogramme)
A 15-day, fully-functional trial version of Electrum for macOS 10.10 and newer and Windows 8/10 can be downloaded for free from here: https://unitedplugins.com/download/
Note that no iLok, dongle, or internet access is required for Electrum activation. (All United Plugins software uses license files for activation and owners can freely use purchased software on all their computers as long as they are the user.)