A group including super-producer Harvey Mason Jr. acquires famed Evergreen and Enterprise Studios, installing two SSL Duality Fuse consoles for a wide range of recording, film and television projects
Burbank, California, April 29, 2021 — Five-time GRAMMY-nominated record producer, songwriter and movie producer Harvey Mason jr. has unveiled a new endeavor which includes the fully-renewed iconic Evergreen and Enterprise music recording facilities, both of which will feature newly installed Solid State Logic Duality Fuse 72 channel SuperAnalogue™ mixing consoles.
In light of the new Duality installation, Mason says that he has been continually drawn to the sound of SSL from the start: "I was introduced to SSL at a time I was just beginning my producing career and I loved what it did to my music. As I got further along and spent more time in studios, I realized the functionality of the SSL console allowed me to be more creative and more productive."
The Duality Fuse 72 channel console is the first to be installed anywhere in the world and will soon be joined by a second at Evergreen's sister facility just across the street, the original Enterprise recording studios. Duality Fuse is the latest model of the industry standard Duality, featuring a fully integrated Fusion analog processor in the center section, providing users with a set of coloration tools for adding tonal character, weight and space to stereo stems.
The Evergreen Stages building started life as a movie theater in the late 1940s before being repurposed as a multi-room music recording complex in 1979. The main live room measures over 3,000 square feet and includes four isolation booths. The studios, which have hosted sessions by some of the biggest names in the business during 40-plus years as a premier music studio, will also serve as the new home of Harvey Mason Media, which offers a wide range of services for record, film and television projects.
Duality Fuse debuts on the big stage
"The goal in rebuilding this historic building was to make it the most elevated, high-end, large format room in the city," says Mason, who has also served as the Chair of the board of trustees and interim President/CEO of The Recording Academy since the start of 2020. "The live room sounds amazing and is one of the largest in L.A.; we can record an 80-piece orchestra here. Couple that with the sound of the Duality Fuse console and the flexibility it gives us and we're in a unique position in L.A.," he says. "It gives us the opportunity to do great things here."
Harvey Mason Media offers an extensive menu of services, including music production, composing, vocal production, songwriting, music editing, custom music library production, music supervision, and music and film mixing. Mason has personally also produced a number of feature films, beginning with More than a Game, a documentary about basketball star Lebron James. He also recently produced, and executive music produced, the Aretha Franklin biopic Respect, starring Jennifer Hudson, which is currently scheduled for theatrical release in August.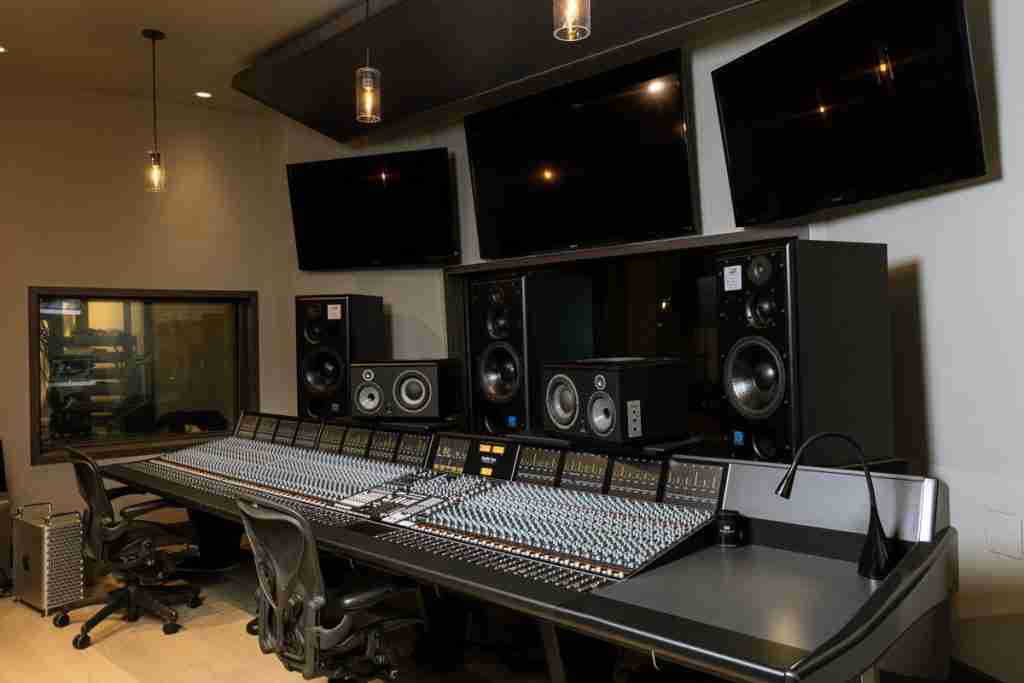 "I produce records and I do a ton of film and television music," says Mason. "For us, the Duality Fuse is the console that we can get so much work done on. It sounds impeccable and the functionality that goes along with it is perfect for the way that I work, and the speed at which we see the industry moving."
"The Duality console gives me so much flexibility and opportunity to do things in whatever way I think will work for the particular project," Mason continues. "I love that it still has the SSL sound of the EQ and compression, with the digital audio workstation control."
Mason's long list of record credits include work with Aretha Franklin, Michael Jackson, Whitney Houston, Elton John, Justin Bieber, Beyoncé, John Legend, Britney Spears, Ariana Grande and Justin Timberlake. His film and TV credits, no less impressive, include writing and producing music for all three Pitch Perfect films, Dreamgirls, Sing, Jesus Christ Superstar Live!, Zoey's Extraordinary Playlist, Straight Outta Compton and Shrek just to name a few.
Attaining a new range of flexibility
The refurbishment of Evergreen Stages included an acoustic redesign of the control room, which is configured for 5.1 mixing and now features an ATC speaker system. "The Duality Fuse console accommodates 5.1 nicely," says Mason. "Compared to the original Duality model I've been working on for many years, the center section has been improved with the features of the Fusion and some additional functionality. The architecture is amazing; it's very flexible. You can patch the Fusion pretty much anywhere. That gives you the ability to do some really cool things with it," he adds.
"We worked with George Augspurger, recent winner of the coveted Technical GRAMMY award, who has designed three or four rooms for me over the years," Mason continues. "We reconfigured the front wall, built an entirely new back wall, added new ceiling treatment, repositioned the console and built a new credenza. The control room sounds much, much better and is more ergonomic."
Additionally, the team led by Paul Cox of technical design and integration firm Paul J. Cox Studio Systems replaced the facility's wiring infrastructure, says Mason. "Paul Cox has redone every new tieline and every faceplate. There's not an inch of cable in this room that's not been redone."
A dual set-up with Duality Fuse
Cox and his team will also integrate the second Duality Fuse across the street at the former Enterprise Studios, founded in the 1980s by Craig Huxley, who also owned the Evergreen Stages building for a period, operating it as Enterprise 2. Both locations will house identical Duality Fuse consoles. The group has reconfigured the Enterprise's original floorplan, combining three rooms into one large studio with a tracking space so projects can move seamlessly between the two facilities.
Over the decades, operating under a variety of names, a long list of performers that includes Frank Sinatra, Barbra Streisand, Ray Charles, Michael Jackson, Paul McCartney and numerous others, as well as record producers such as Quincy Jones and George Martin, worked at the historic Evergreen Stages facility. The soundstage has hosted scoring sessions for such classic film and television projects as Back to the Future, When Harry Met Sally, Star Trek: The Motion Picture, Friends and Dallas.
SSL VP Technical Ops, Phil Scholes adds, "Duality's Dual Mic preamps—SuperAnalogue with Variable Harmonic Drive and switchable E/G series equalization curves on each input offer additional coloration opportunities. SSL's δelta-Control provides seamless integration of the console automation and all major DAW applications from the Duality Fuse surface."
All photography by Chris Schmitt.