Umeå, Sweden – Today, Toontrack released the Modern Metal EZX, an expansion for EZDrummer 2 and Superior Drummer 3 recorded by one of the most in-demand engineers/producers/mixers in today's metal scene: Will Putney.
This marks the first release in Toontrack's annual Metal Month campaign. This year's edition, which is the tenth consecutive one, will as usual host weekly releases and happenings through the month. A wide range of deals and added value offers are also available as of now.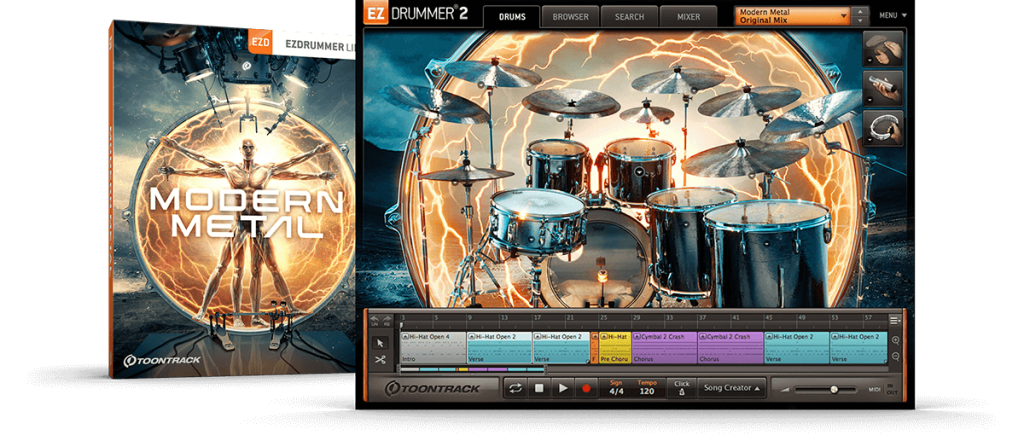 About the Modern Metal EZX
The Modern Metal EZX was recorded by engineer/mixer/producer Will Putney at his own Graphic Nature Audio studios in New Jersey. Featuring five carefully captured kits, each handpicked for their unique tonal qualities, paired with Will Putney's raw but still sonically immaculate production style, this EZX paints a unique document of hard-hitting, aggressive-sounding drums with a tangible edge, nerve and energy.
In addition to the kits and the large assortment of cymbals, extra kicks and snares, the Modern Metal EZX also includes a comprehensive library of presets as well as a selection of MIDI grooves and fills designed for anything from heavy rock to death metal, hardcore and progressive metal.
Ultimately, the Modern Metal EZX presents the embodiment of modern metal drums at their finest – fit for anything from hardcore to metal and any subgenre descriptor that may be wedged in between.
FEATURE SPOTLIGHT
• Recorded and produced by Will Putney at his Graphic Nature Audio studios in New Jersey
• Includes five individual kits
• Several extra kicks and snares as well as a wide range of cymbals
• Kits and tones designed for every Facet of modern metal
• Features custom presets engineered by Will Putney
• Includes a collection of MIDI for anything from heavy rock to brutal death metal