Cassette is an audio plugin that imparts the unique character and sonic imprint of an often maligned recording medium. A one that offers a sound like nothing else and that I'm in love with. This is not a tape machine, this is a time machine.
Cassette is an audio plugin that emulates the sound of vintage cassette tapes and decks. It has been carefully modelled after exhaustive analysis of a high number of sound signals recorded into real tapes. As a result, we get the same sound and behaviour of the original units.
Magnetic tape is not a sterile media. Because of that, it will impart its own sound signature to signals recorded into it. These include a different frequency response, frequency dependent saturation, high-frequency compression, hiss, asperity noise and much more.
Reproduction systems will also induce their fingerprint: wow, flutter, random high-frequency loss, crosstalk between channels, stereo unbalances and other.
All of these little quirks and random fluctuations have been modelled meticulously. Cassette imprints instant nostalgia, movement and analog feel all around in its path.
Cassette has been designed to be fun, pleasant to the ear and true to the medium.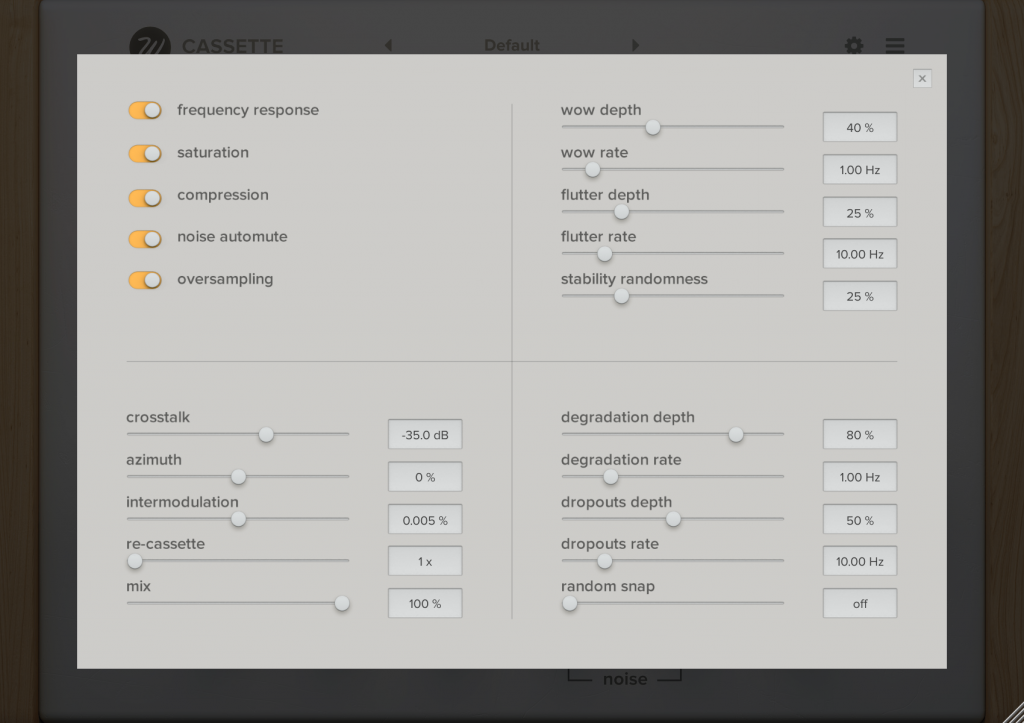 There's much more power under the hood than what you see at a first glance.
We can find 4 sections:
Tape: I always wanted to have a modular tape plugin in which I could enable or disable each step of the processing.
Stability: Control how the Stability parameter in the front panel works internally. Includes "randomness" in order to make things unpredictable and analog.
Extra: More of what makes a cassette sound like a cassette. Including the innovative "Re-Cassette" parameter.
Artifacts: Control how the Artifacts parameter in the front panel works internally. Includes "Random Snap" for simulating the tape being caught momentarily causing pitch instability.
As you can see in this panel, Cassette uses oversampling in order to get rid of aliasing. The plugin always works at 192KHz sampling rate internally.
We modelled the four cassettes types available. Each one delivers different sonic characteristics.
I: was the standard and most compatible tape format. Featured a ferric-oxide coating (Fe2O3). First appeared in the 1960s.
II: with a chromium dioxide (CrO2) formulation was introduced at the dawn of the 1970s featuring an undeniable increase in high frequency response.
III: living a short period between the mid 70s and early 80s, the ferro-chrome (FeCr) never made it into the golden era.
IV: metal-formulated hit the scene at the end of the 70s. Features firmer bass as well as louder high frequencies.
Changing tapes will have an effect in the frequency response of the plugin but also in the saturation, compression, static noise (hiss) and dynamic noise (asperity noise).