Aquamarine4 (AU, VST, AAX) is a high-end mastering and mixing plugin suite which is ideal on virtually all kinds of musical genres thanks to its extended versatility. It includes a massive compressor that we sampled from one of the most highly regarded – and not exactly cheap – units on the market – featuring a smooth and warm sounding opto comp section and a super punchy, discrete VCA-style dynamic processor which can go from a subtle 1.2:1 ratio – for a gentle dynamic massage – to savage 'Flood' limiting, for more creative compression effects.
The discrete VCA section can invariably suit many different scenarios, plus the attack time has been exaggerated to reach almost zero. Aquamarine also features a high-pass filter allowing you to control the compressor's response to bass frequencies and a mix control which builds on the original unit's functionality by providing onboard parallel compression.
Aquamarine4 now features an astoundingly precise recreation of an American ultra-rare passive equalizer from the 1950s. And when we say 'ultra-rare' we say it for a reason. The owner of this unit, which we sampled in Berlin, explained how only a few of these beasts – possibly less than 5 – can still be found in good working order. We don't know how the others sound like compared to the one we are bringing you this time and if they present any differences due to component variations or simply due to maintenance. What we know, though, is that the DNA of Aquamarine's EQ is the exact same one as its hardware counterpart and we like to consider it a tribute to this iconic piece of engineering.
Each plug-in included in the Aquamarine 4 suite comes in a "Standard" version and an alternative "ZL*" version which operates at *zero latency and is thus suitable for use when tracking, at the cost of extra processing resources. For further details consult the Aquamarine 4 user's manual in the Overview section.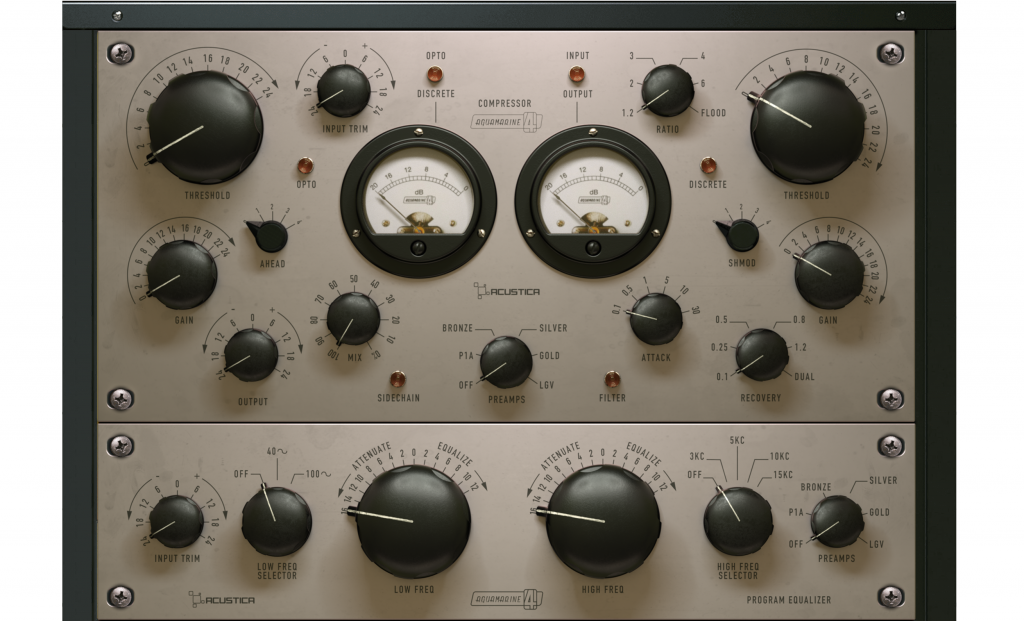 Aquamarine4 is based on our Core 13 engine:
-NEW: Our new Core 13 engine improves on the previous version by introducing our new VLA™ technology (Vector Loading Acceleration), which makes the response of the plugin much faster.
-Upgraded SASM (Symmetric & Asymmetric Saturation Modeling) high-performance saturation algorithm;
-Introduction of a new post-production sample de-noising tech for cleaner deconvolved impulses called STT (Super transient technology);
-Full compatibility with Client/Server architecture integrated by default in Acqua plugins;
-Engine optimization introducing a new highly efficient algorithm. This innovative technique is applied to all the deconvolved impulses for further de-noise processing and subsequent elimination of any incorrect low-level behavior (including the so-called "echo bug").
Product authorization and de-authorization is an on-line automatic process that creates a product license based on your computer's identification code. This procedure is automatically guaranteed by our Aquarius brand new application.
Its purpose is to simplify and automate the authorization, installation and uninstallation process of your purchased Acustica products (ACQUA plug-ins etc.).
How to try a plugin: TRIAL MODE
– Create a user account (if you do not have one yet) on our website
– Download and Install Aquarius, our products manager, for either Mac or PC
– Log in to Aquarius using your user email and password
– Type the product name in the 'search' field inside Aquarius to find the '(trial)' version of the product, then click on the thumbnail or on the 'Install' button. This will take you to the product page (the trial version of a product is also visible in the 'related products' section on the right)
– Select the right plugin format according to the DAW you are using and click 'Install'
– Aquarius will download, install,and authorise the trial product automatically
– Run your DAW. You're set!
Please note:
– The old trial authorisation method – which required the 'LASTTRIALS' code – is now obsolete and each trial version of a product can be easily downloaded/installed directly from Aquarius, for a more streamlined process
– Should you see an authorisation error, the reason could be that the product has been already authorised too many times and the limit has been reached
For details about installation/authorization please refer to the following page:
Acustica Audio – Professional Audio Software – Acustica Audio
Product: Aquamarine4
Developer: Acustica Audio
Price (MSRP): EARLY ACCESS PRICING- 99.00€ (REG. 199.00€) Save 50%OFF For the first four weeks after release or until first official version is released.
Plug-in Format(s): VST, AU, AAX
System Requirements (Windows): Windows 7 – Windows 10
System Requirements (OSX): OSX 10.8 – OSX 10.13
Aquamarine4 Commercial web-page: Aquamarine4 – Acustica Audio
Aquamarine4 Trial web-page: Aquamarine4 (Trial) – Acustica Audio
Aquamarine4 User's manual: https://app.box.com/shared/static/3q…em7isakifb.pdf