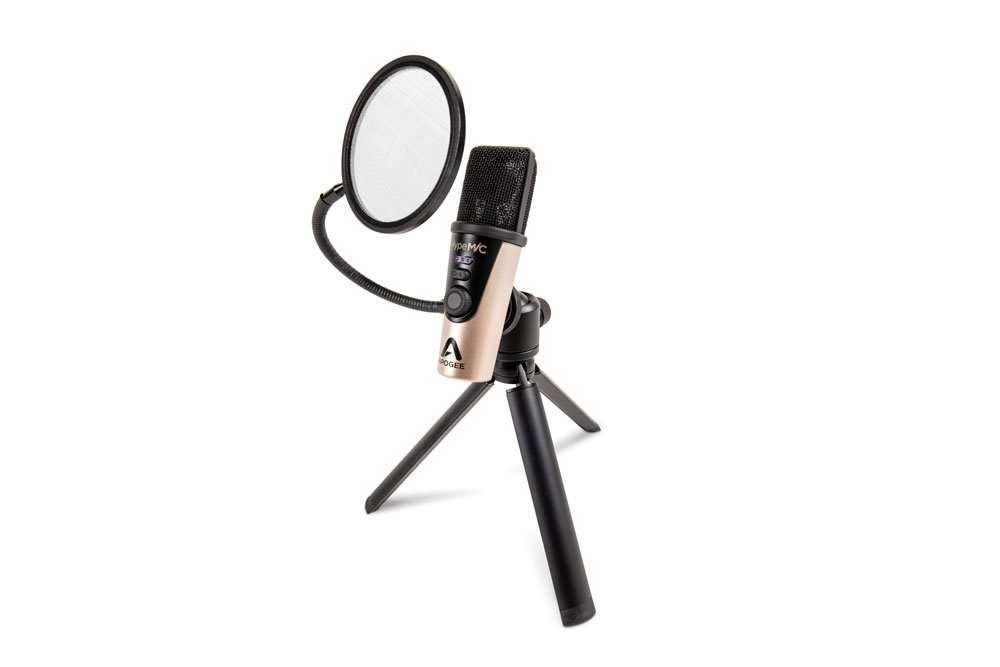 Introducing HypeMiC, Apogee's next-generation studio-quality USB condenser microphone with built-in analog compressor. HypeMiC's unique and easy-to-use compression mode brings recording studio magic to vocals, voice-overs, acoustic instruments, percussion, and podcasts – anything you record! The compression feature makes pro recording fast and easy, reducing the need for extensive processing and mixing after you record. HypeMiC also features the same great sound quality and headphone output features found in Apogee's MiC+. And with HypeMiC you get accessory upgrades like a premium desktop stand, custom pop filter and carrying case as well as all the cables you need to connect HypeMiC to your iOS device, Mac or PC.
A Legacy of Incredible Sound, Simplicity and Portability
In 2011, the award-winning Apogee MiC was introduced in Apple stores worldwide as the first studio quality digital USB microphone made for GarageBand® on iOS devices and Logic Pro® on Mac® computers. HypeMiC builds on this legacy by integrating an all-new analog compression circuit with Apogee's enhanced PureDIGITAL circuitry for the greatest true-tone audio resolution and portable recording experience.
One Mic to Rule them All – What you can Record with HypeMiC
Singing and Vocals
HypeMiC's unique analog compression enhances vocals like no other microphone. The three compression settings available in HypeMiC give you a truly balanced and "mixed" recording, reducing the need for extensive processing and mixing. Capturing your perfect take has never been easier.
Acoustic Instruments – Guitar, strings, horns, upright bass, drums, piano
HypeMiC brings a new level of smoothness and warmth to acoustic instrument recording. Varying compression levels allow you to capture the fullest tone of your instrument without compromise. Built for high SPL levels, HypeMiC provides greater clarity and detail when recording loud acoustic instruments from drums to horns to choirs.
Voice/Audio for Video – Podcasts, Voiceovers, Interviews, YouTube Performances, Live streaming
Ideal for live streaming, podcasts and broadcasts, HypeMiC balances audio dynamics for greater clarity resulting in better 'broadcast ready' recordings. HypeMiC is compatible with any Mac/PC and iOS app that allows you to select an audio device so you're never without a pro studio when you are on the go.
Record Through HypeMiC's Analog Output
HypeMiC is an awesome way to introduce new sounds into your recordings and mixes. You can send audio out of the HypeMiC stereo output into a mixer, audio interface and stand-alone recorder to capture the unique and bold sound of HypeMiC's compression settings.
HypeMiC Compression Settings
Shape It
The minimal amount of compression, great for shaping the vocals and instruments in your music recordings
Squeeze It
The middle setting, great for podcasts, interviews and streaming when you want to squeeze a little more pop out of your voice
Smash It (High)
Maximum compression, great for voice recording when you really want to smash it for that big broadcast sound
HypeMiC Highlights
Studio-quality analog compressor
PureDIGITAL connection for pristine sound quality up to 24-bit/96kHz
Premium cardioid condenser microphone capsule
Headphone output with Blend feature offers zero latency recording
Premium accessories kit includes tripod, pop filter and carrying case
No configuration required, just plug in and record with any audio app
Works with iOS, Mac® and PC
Availability: January, 2019 at Apogee dealers worldwide and Apple retail stores April, 2019.
Price: $349 (USD)